GasShield® Gasket Filters
Mott GasShield® Gasket Filters are built to withstand extreme operating conditions and deliver optimum filtration performance. GasShield Gasket Filters allow integration of a filter without adding length to the gas system and are compatible with most inert and specialty gases, fit inside 1/4 " face seal fittings, with either 1" or 3" long porous elements, and come complete with integral face seal gasket.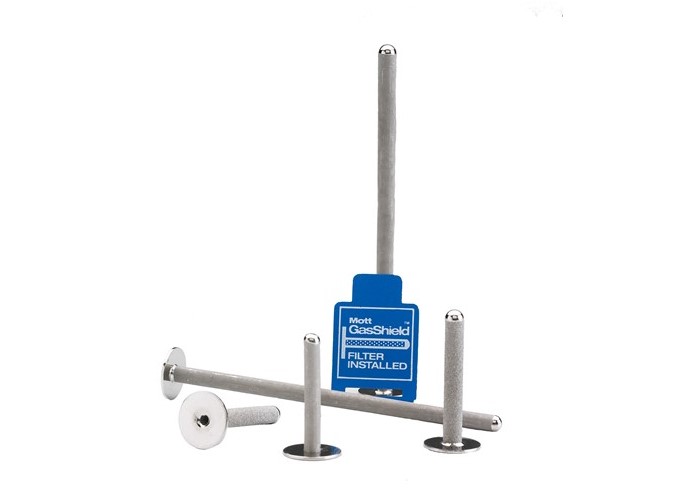 Literature & Data Sheets
Typical Applications
Nickel and stainless steel gasket filter specifications
Explore Mott's wide range of high purity filters, diffusers and flow restrictors designed exclusively for semiconductor manufacturers.
Gasket Filter basic installation and replacement instructions
Product Specs
Operating Conditions

» Maximum Operating Temperature for Inert Gas: 450°C

» Maximum Differential Pressure: 1000 psid Forward or Reverse (68.9 barg)

Materials

» Hardware: 316LSS or Nickel

» Filter Medium: 316L SS or Nickel

» Hastelloy or custom materials contact us

Specifications

| | |
| --- | --- |
| Particle Removal Size: | ≥ 0.003 μm |
| Helium Leak Rating: | 1 x 10-9 atm cc/sec |
| Moisture Contribution: | <10 ppb after 1 hour at low-flow ambient purge per SEMI F27 test method |
| Total Hydrocarbons: | Below detectable limits per SEMASPEC 90120396B test method |
| Particle Shedding: | Zero particle contribution above background (<1 particle/ft³) per SEMI F43-0308 test method |

Flow Data

More flow curves available, consult factory or spec sheets.

Fittings & Dimensions

Typical Installation

Part Description
Flow Rating (SLPM)
Filter Material
Face Seal Gasket Size (Inches)
Element Length (Inches)
Changeout Interval
GSG-V4-1-N
1
Nickel
¼
1
System Dependent
GSG-V4-3-N
3
Nickel
¼
3
System Dependent
GSMM-75-010-33
GSMM-75-030-33
20
Nickel
¼
1
System Dependent
GSG-V5-1-2N
50
Nickel
½
1
System Dependent
GSG-V4-1-S
1
316L SS
¼
1
System Dependent
GSG-V4-3-S
3
316L SS
¼
3
System Dependent
GSG-V4-1-2S
20
316L SS
¼
1
System Dependent
GSG-V5-1-2S
50
316L SS
½
1
System Dependent

*Custom designs and fittings available.
Our Design Capabilities
Flow/pressure drop curves and filtration efficiency for virtually any system design
Custom filter media, fitting material and hardware design configurations available
Relevant Services
Design Expertise – From start to finish, we customize solutions based on your design parameters – challenge us!
Fluid Modeling – Our extensive applications have built a library of data to increase the accuracy of our flow models to provide initial performance and feasibility estimates prior to building prototypes.
Extensive Partner Network – If a material is not listed or capability not in-house, we maintain an extensive network of partners for new material procurement, advanced manufacturing capabilities, and validation testing.
Engineering Support – Utilize our expert project engineers to select the right gasket filter for your application.
Product Overview

Literature & Data Sheets

Product Specs

Videos & Articles

Design Capabilities

Relevant Services