Ultra High Purity Porous Ceramics
Mott's Ultra High Purity Porous Ceramics can be customized to your application requirements. Ceramic technology offers a wide variety of chemical compatibilities as well as durability in high temperature and pressure applications.  Best in class cleanliness is achieved by manufacturing in Class 100 clean room environment with >99.5% pure alumina.
Porous alumina (or aluminum oxide Al2O3) ceramics offer outstanding properties for mechanical strength, wear resistance, and corrosive environments.  High purity alumina materials are excellent for making parts for CVD process, ion implants and many other semiconductor process components.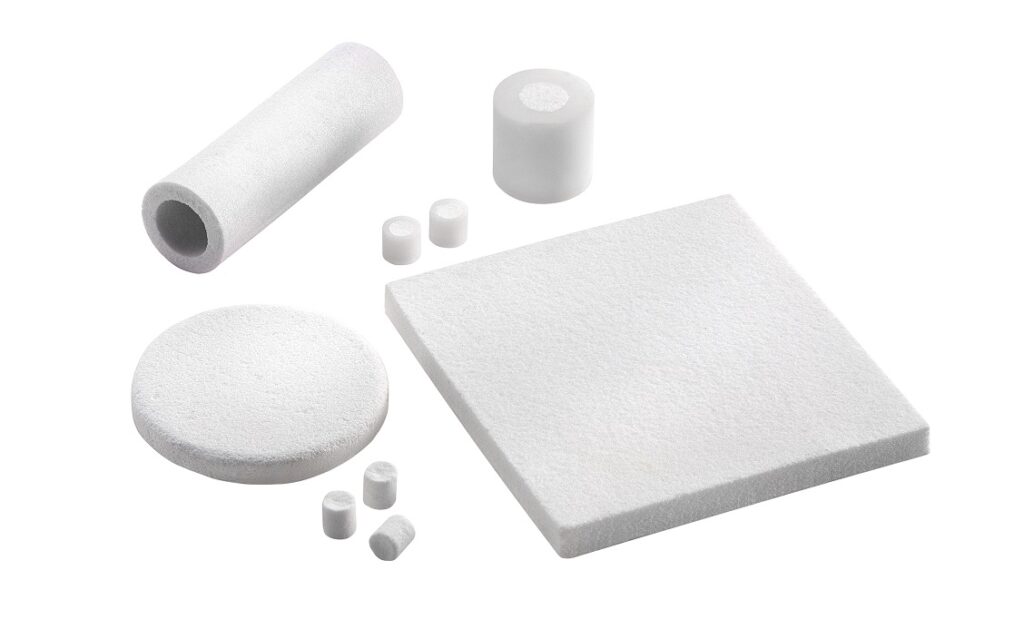 Literature & Data Sheets
Typical Applications
Electrostatic Chuck Conduits and Feed Systems
Ultra High Purity Gas Diffusion
High Temperature Liquid Filtration
Semiconductor Wafer Fabrication Components
CVD Equipment Parts
Electronic Components and Substrates
Gas Flow Plugs and Ports
Explore Mott's wide range of high purity filters, diffusers and flow restrictors designed exclusively for semiconductor manufacturers.
Product Specs
Operating Conditions

» Maximum Operating Pressure: 5,000 psi

» Maximum Operating Temperature: 2,750°F (1,500°C)

» Maximum Differential Pressure: 1,250 psi

Specifications

| | |
| --- | --- |
| Flux | Up to 71.6 SCCM He/cm2 at 8 Torr |
| Part-to-Part Variability | <10% at 3-sigma |
| Material Purity | >99.5% Al2O3 |
| Pore Size | 0.2 – 5 MG |
| Density | 35%+ |

Geometries

Small Tubes/Bushings

Plates

Discs

Download cutsheet for specifications
Our Design Capabilities
Flow/pressure drop curves and filtration efficiency for virtually any design
Custom filter media, pressure vessel, and fitting material and configurations available
Relevant Services
Design Expertise – From start to finish, we customize solutions based on your design parameters – challenge us!
Lab Testing – If you need data packages or feasibility testing for your part prior to installation, we're happy to work with you.  We'll use our lab center to perform various characterization and performance tests to ensure your parts are meeting strict specifications prior to you receiving them.
Engineering Support – Utilize our project engineers to consult about your process and select the right porous ceramic product design for your application.
Product Overview

Literature & Data Sheets

Product Specs

Videos & Articles

Design Capabilities

Relevant Services