Filtration Skids
Mott Corporation supplies fully integrated filter skid designs for all major process filtration technologies. Through our graded approach to design, a wide partner network, and excellent project management, we deliver complete filtration skids in months, not years. With our modular design, we can integrate customer-specific preferences on piping, valves, instrumentation, controls and programming, and other supporting equipment. Let Mott handle your complete filtration project to reduce your risk and time investment.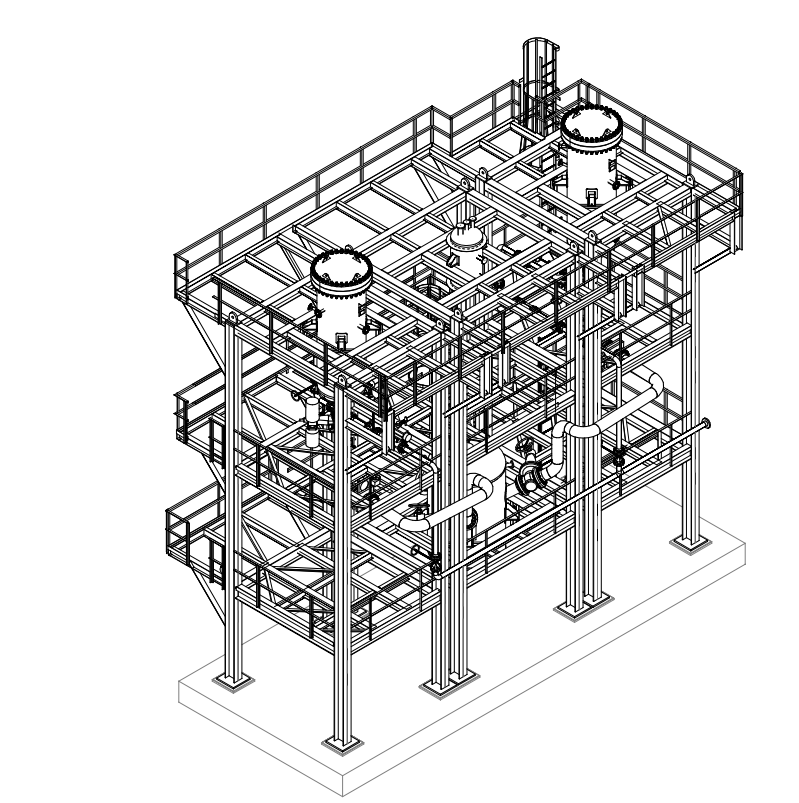 Literature & Data Sheets
Typical Applications
High temperature or corrosive chemical processing
Ultra-pure chemicals requiring sub-micron filtration
Product Specs
| | |
| --- | --- |
| Customization | Mott Turnkey Filter Skids are customized to the specification and footprint of your process. Consult with an engineer for a detailed design review. |
Design Capabilities
Process Design – The Mott engineering team has the capability to perform all process design, vessel design, generate PFDs and P&IDs and specify valves, instruments, and other supporting critical equipment.
Design Modeling – Mott can perform detailed 3D modeling of the skidded system and sub-components and often uses this integrated 3D model as a training tool for customer maintenance personnel.
Piping and Structural Analyses – Mott can provide all required piping, pipe support, and structural qualification calculations based on our own internal standards, customer requirements, or internationally recognized codes and standards.
Detailed Fabrication Drawings – The Mott team can generate all required piping isometrics, pipe spool drawings and required structural detail drawings to be used to fabricate the skid and critical components.
Relevant Services
Filter Feasibility Testing – Want a recommendation on the correct filter media, alloy, and backwash frequency for your process? Coordinate with a Mott representative to send a sample of your feed stock to our lab to determine the correct filtration design for your process.
Front End Engineering Design (FEED) Packages – Prior to beginning fabrication, Mott can perform FEED phase work consisting of necessary process and structural designs of the filter system.   This work also includes identifying total valve and instrument count and developing the functional specification of the filter.  A FEED phase ensures an accurate final cost estimate and project schedule, generally culminating with an onsite detailed design review.
Programming and Implementation – Mott filtration systems are fully automated, hands off equipment.  We can provide detailed programming and the implementation of that programming into Mott supplied or customer supplied hardware.  Mott's filtration systems are flexible such that programming can be either a local PLC to control just the filter skid or can be integrated directly into the plant DCS system to be controlled and monitored from the comfort of a control room.
On Site Field Services – Mott's services don't stop at design work.  Our Field Engineering team will be at your site for commissioning, startup and post-startup support to ensure the successful operation of the filter system.
Post-Install Data Analysis/Preventative Maintenance – The Mott team can analyze filter performance data trends to confirm successful operation, recommend operational changes based on feedstock or plant changes, and in many cases recommend maintenance or offline filter element cleaning schedules.
Product Overview

Literature & Data Sheets

Product Specs

Videos & Articles

Design Capabilities

Relevant Services