Polymer Filters
Mott's polymer-grade textile filters, including cups, threaded cups, discs, and extended area packs, play a vital role in the production of nylon, especially in high-pressure applications demanding a filter media with excellent shear strength and consistent filtration capability. Unlike traditional filters, polymer filters from Mott provide a very stable pore structure, exceptional gel removal properties, and can be expertly cleaned. They are available in a wide variety of polymer grades, ensuring optimal performance for your specific needs.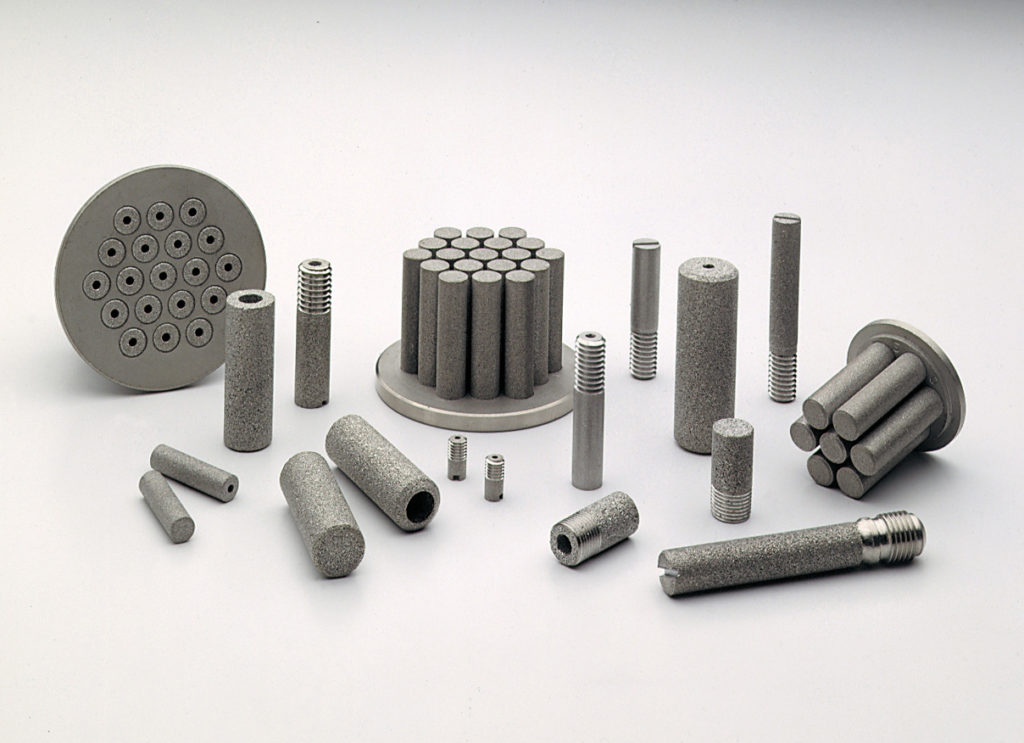 Literature & Data Sheets
Typical Applications
Polymer Filtration -Nylon 6, Polyester, Polypropylene
Mott polymer grade filter cups and extended area packs for continuous filtration performance
Check out the features and benefits of Mott sintered porous metal media that delivers uniform porosity for superb filtration efficiency and structural integrity.
Product Specs
Dimensions

Threaded Cups:
Length – 1.5″ – 2.0"

Standard Diameters (OD) 0.317", 0.380" – (ID) 0.093", 0.156"

Thread Size – 5/16-18, 3/8-16 (Dependent on media grade)

Other options are available, consult factory

Discs: Consult Factory

Extended Areas Packs: Consult Factory

Material Choices

Standard filter and hardware alloys – 316L SS

Polymer Media Grades

Polymer Grades – 1, 2, 3, 4, 5, 6, 7, 8, 9, 10
Nominal pore sizes – 10, 12, 15, 20, 30, 40, 55, 60, 80, 100

Cleaning

Mott threaded cups may be cleaned and reused many times with minimum effect on porosity
Our Design Capabilities for Polymer Filters
Application Engineering – Require expert guidance for your polymer filter design? Our team of application engineers is ready to assist you in selecting the right textile filters for your specific design needs. With decades of experience collaborating with leading technical and performance brands worldwide, we are well-equipped to tackle even the most intricate challenges alongside you.
Customer Innovation Center – We thrive on collaborating with clients on complex projects, so much so that we've dedicated an entire facility to this purpose. Are you interested in participating in various lab testing and engineering consultation sessions focused on polymer filters? Join us at our Customer Innovation Center in Connecticut, where we can work together to develop tailored solutions for your unique applications.
Rapid Prototyping Cell – If you're keen to swiftly assess the feasibility of your polymer filter design, our rapid prototyping cell can expedite the process, producing prototypes in as little as two weeks. Our engineers utilize equipment similar to our manufacturing facility to deliver cost-effective, manufacturable designs that meet your requirements.
Additive Manufacturing – When seeking the utmost uniformity in porosity or exploring unconventional designs for polymer filters, consider partnering with our cutting-edge porous 3D printing team. We have the capability to craft controlled porosity designs featuring various density gradients in non-traditional shapes, satisfying even the most unique design requests. Our advanced technology empowers us to create parts with both solid and porous components in a single printing cycle.
Relevant Services for Polymer Filters
Lab Testing – If you require data packages or feasibility testing for your polymer filter prior to installation, we are here to assist you. Our lab center is equipped to conduct a range of characterization and performance tests, ensuring that your polymer filter components adhere to rigorous specifications.
Computational Fluid Dynamics – Interested in modeling how your process fluids interact with Mott's polymer filter components? Consult your Mott representative to explore how we can leverage CFD software for in-depth analysis and optimization.
Engineering Memberships – If your work frequently involves intricate designs, especially for polymer filters, demanding the highest level of engineering support, inquire about our membership rates. These memberships offer you discounted access to various lab testing, prototyping, and engineering resources, ensuring that your polymer filter projects benefit from the best possible support.
Mott's Polymer Filters: Unrivaled Filtration Excellence
Polymer filters are specialized filtration components constructed from high-quality polymer materials. They are designed to effectively capture and separate particles or contaminants from fluid or gas streams in a wide range of industrial applications. Polymer filters are used extensively in industries such as chemicals and manufacturing, where precise filtration, chemical compatibility, and durability are essential.
Mott stands out as a leading provider of polymer filters due to its unmatched expertise in filtration technology, innovative engineering techniques, and a commitment to quality. Mott's polymer filters excel in performance, offering superior filtration efficiency, chemical resistance, and longevity. With a history of delivering innovative solutions and a reputation for precision engineering, Mott is the preferred choice for those seeking the best polymer filters to meet their filtration needs.
FAQs: Polymer Filters
Q: What are Polymer Filters?
A: Polymer Filters are specialized filtration components constructed from high-quality polymer materials. They are designed to capture and separate particles or contaminants from fluid or gas streams in various industrial applications.
Q: How do Mott's Polymer Filters differ from other filters in the market?
A: Mott's Polymer Filters stand out due to their exceptional filtration efficiency, chemical compatibility, and durability. Our expertise in filtration technology and commitment to quality ensures that our polymer filters deliver unmatched performance.
Q: What industries commonly use Mott's Polymer Filters?
A: Mott's Polymer Filters find applications in a wide range of industries, including chemicals, manufacturing, and more. They are essential in scenarios where precise filtration and chemical resistance are crucial.
Q: Can I request customized specifications for Mott's Polymer Filters?
A: Absolutely! Mott Corporation specializes in customizing Polymer Filters to meet your specific application and operational requirements. You can collaborate with our engineering team to ensure that each filter is tailored to your desired specifications.
Q: How long do Mott's Polymer Filters typically last?
A: The lifespan of Mott's Polymer Filters depends on various factors, including the application and maintenance. Proper care and maintenance can extend the life of these filters, making them a cost-effective and reliable choice for your filtration needs.
Product Overview

Literature & Data Sheets

Product Specs

Videos & Articles

Design Capabilities

Relevant Services

Additional Info

FAQs