Porous Metal Fluidizers
Porous metal is the ideal material for fluidizing granulated solids or heavy material for transport.  Passing a gas through porous metal media causes a distributed fluidizing effect on the combined material, resulting in hydraulic behavior similar to that of a liquid.  These properties then allow for easy transport of the combined material to the desired location.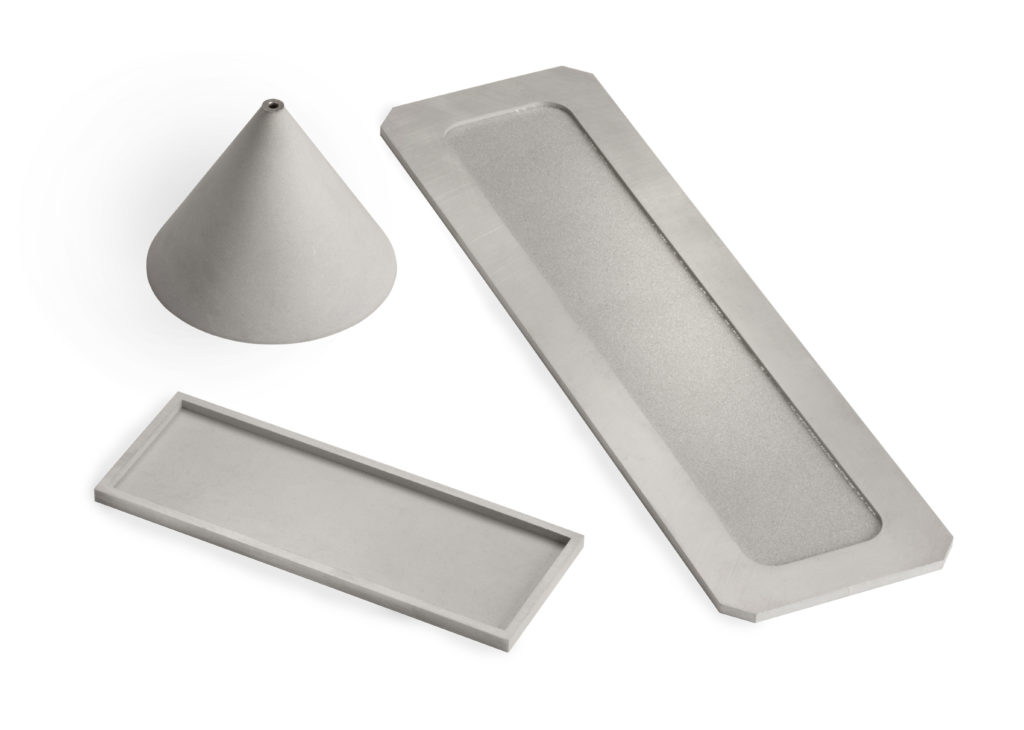 Check out the features and benefits of Mott sintered porous metal media that delivers uniform porosity for superb filtration efficiency and structural integrity.
Provides an overview of markets served, applications, products, materials, and engineering capabilities.
Discover our entire range of services, including rapid prototyping, filter feasibility, media characterization and more.
Product Specs
Design Considerations

Engineers run into design challenges every day and we help overcome them. Consider some of the below design characteristics when engineering a custom filtration or flow control product:

– Flow Rate – Hone in on the exact flow your product needs

– Process Temperature – Go high (1500F+) or low (cryogenic), our products can handle it

– Pressure Drop – Minimize system efficiency loss

– System Pressure – High operating pressures are frequently designed for Corrosive effects, if any – design for highly corrosive gases or liquid with unique metal material options

– Cleanliness Requirements – Check out Cleanliness and Treatment Options in this section

– Operating Fluid – Such as type, density, viscosity

Physical Dimensions

We make products from extremely small drug implants and building size filtration systems. Custom designing our products to fit into your product or process is what we do. See a starting list of porous metal product geometry. Our customers often require a integration into hardware and housings – we do that, too. Forming, machining, brazing, and welding are just some of the capabilities we use to customize dimensions or integrate our product to hardware connections.

General starter geometries:

– Disc

– Sheet

– Cup

– Bushing

– Tube

– And more – contact us!

Performance Characteristics

Optimizing performance lets our customers bring the best product to market. Benefits include improved yields and processing efficiency, faster instrument response times, and better quality product produced. Our design teams will translate your desired product specifications and process needs to maximize your capabilities. Just some of the custom performance capabilities are listed below:

– Flow Permeability

– Particle Size Retention

– Surface Characteristics

– Mean Pore Size

– Density

– Capillary Attraction

– Mechanical Properties

– Thermal Conductivity

Material Choices

Our customers may choose from an extensive list of material options to meet the specifications of their product application. We even source new materials through our supply chain for some of the most extreme technology advancements. Below are just some of the options available:

– Stainless Steel; 316L, 304L, 310, 347 and 430

– Hastelloy® C-276, C-22, X, N, B and B2

– Inconel ® 600, 625 and 690 Nickel 200 and Monel ® 400 (70 Ni-30 Cu)

– Titanium Alloy 20

– Many others – Contact us

Hardware Connections

A virtually infinite combination of hardware connections are available for design. We are capable of sourcing and assembling the connection you desire using years of experience and special equipment. For example, welding porous metal products is significantly different than solid to solid. If done improperly, blowouts can occur or leak paths can form if done improperly, causing waste and poor performance. Additionally, when assembling porous metal media into products, surface damage can occur which will dramatically impact the products performance. We're experienced in all types of welding an assembly, use our manufacturing capability to your advantage.

Cleanliness & Treatment

Mission critical applications often require a host of unique properties and desired levels of cleanliness. Take advantage of our organic free processes and our Class 100 (ISO 5) and Class 10,000 (ISO 7) clean room manufacturing capabilities if your product and industry demands top cleanliness. In addition, post-treatments can be used to achieve additional performance characteristics, such as hydrophobic properties or additional strength. Some of these capabilities include:

– Annealing – ensure the best mechanical strength and corrosion resistant properties

– Surface Coatings – coatings such as silicone are used to achieve added properties

– Chemical Treatments – special chemical treatments such as surfactant treating add surface characteristics

– Passivation – get iron free cleanliness with nitric acid passivation straight out of the ASTM

– Organic Free Processing – let your product follow a unique process separate from regular production

– Advanced Joining – use our welding capability for oxidation free product

– Certified Oxygen Service

Specifications and Quality

High regulated and specialized industries require significant quality reviews, process documentation, and inspection and test plans. Experienced with medical, pharmaceutical, automotive, aerospace, nuclear, and other industries, we are ready to handle complex quality reporting requirements. Our customers often have specific agency approvals and tests and request specific sampling plans – send them our way. Here are a few examples of what we handle:

– Quality Reports and First Article Inspections

– Material Certification

– PPAP

– ATEX Directive

– Certificate of Conformance

– Sample Sizes and Statistical Process Control

– Custom Inspection Requirements

In addition, our engineering teams have years of experience with the latest design specifications of industries like semiconductor, medical, and aerospace. Save time and effort by using their knowledge of filtration and flow control applications by having them design with you.

Logistics Options

Packaging and shipping needs should be considered with the design process as many options are available. For example, certain industries require very specific bagging requirements to minimize particle contribution and utilize nylon or barefoot bags vice polymer.

Getting the parts when you want them is important to us. We offer shipping and inventory solution services, including:

– Expedited Shipments

– KanBan Inventories

– Portal Management

Check out the Logistics section of our Services page.
Design Capabilities
Application Engineering – Need consultation on your design? Our team of application engineers are ready to help you determine the right part for your design. With decades of experience working with the world's largest technical and performance brands, we're eager to solve complex problems with you.
Customer Innovation Center – We enjoy working with customers on complex projects. In fact, we've dedicated an entire facility to it. Want to join us for various lab testing and engineering consultation sessions? Visit our Customer Innovation Center in Connecticut to develop a solution for your unique application.
Rapid Prototyping Cell – Trying to determine the feasibility of your design as fast as possible? Use our rapid prototyping cell to turn around prototypes in as little as 2 weeks. Our engineers will work with equipment similar to our manufacturing facility to provide you with a manufacturable, economical design.
Additive Manufacturing – If you're looking for the most uniform porosity or a non-traditional design, look no further than working with our porous 3D printing team. We can create controlled porosity designs with various density gradients in non-traditional shapes to satisfy the most unique design request. Our technology allows us to print parts with both solid and porous in a single print cycle.
Relevant Services
Lab Testing – If you need data packages or feasibility testing for your part prior to installation, we're happy to work with you. We'll use our lab center to perform various characterization and performance tests to ensure your parts are meeting strict specifications.
Computational Fluid Dynamics – If you would like to model your process fluids interaction with a Mott part, ask your Mott representative how we can use CFD software.
Engineering Memberships – If you're constantly working on complex designs that require the highest standards of engineering support, ask about our membership rates, which allow you discounted rates to various lab testing, prototyping, and engineering resources.
Product Overview

Literature & Data Sheets

Product Specs

Videos & Articles

Design Capabilities

Relevant Services