Porous Metal Cups
Mott's porous metal cup designs can be tailored for an extensive range of applications and specifications. These porous cups can be integrated with both metallic and non-metallic hardware options, offering a comprehensive assembly solution. 
We can adjust numerous parameters, including length, diameter, thickness, alloys, and media grades, ensuring our porous cups address diverse filtration, flow, and chemical compatibility requirements for your product or process. 
With a commitment to innovation and precision, Mott ensures that each porous cup is crafted to deliver optimal performance and longevity.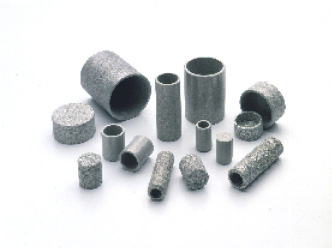 Literature & Data Sheets
Typical Applications
Various filtration
Various flow control
Product Specs
Outer Diameter

Common ODs – .125″, .250″, .375″, .500″, .625″, .750″, .875″, 1.000″

Mott specializes in custom made products. If you need a unique disc diameter, please consult factory.

Inner Diameter

Common IDs – .070", .125", .250", .375", .553", .641"

IDs are related to ODs. Special tooling can be acquired for unique circumstances.

Length

Common Lengths – .170″, .250″, .375″, .500″, .678″, .812″

Custom lengths available, consult factory

Thicknesses

Common Thicknesses – .039″, .062″, .078″, .093″  

Custom thicknesses available, please consult factory

Media Grades

Common Media Grades – 0.2, 0.5, 2, 5, 10, 20, 40, 100

Custom media grades available upon request, consult factory

Materials

Common alloys – 316L SS, 310 SS, 304 SS, Hastelloy® C-276, Hastelloy® C-22, Hastelloy® X, Monel® 400, Nickel 200, Inconel® 600

Custom alloys available upon request, consult factory

Operating Temperatures

Alloys with temperature resistance up to 1700° degrees Fahrenheit are available.

Custom alloys available to accommodate unique operating temperatures, consult factory

Hardware

Porous metal cups can be welded into a wide variety of hardware, such as NPT and tube fittings.  Mott can provide you a complete assembly with hardware, just ask your Mott representative
Our Design Capabilities for Porous Metal Cups
Application Engineering – Need consultation on your porous cup design? Our team of application engineers is on standby to guide you in selecting the right porous metal cup for your requirements. With decades of experience collaborating with the world's leading technical and performance brands, we specialize in crafting the ideal porous cup to address intricate challenges.
Customer Innovation Center – We take pride in partnering with customers on intricate porous cup projects. To this end, we've established a dedicated facility. Interested in hands-on lab testing and engineering consultation for your porous cup needs? Join us at our Customer Innovation Center in Connecticut to craft a solution tailored to your specific application.
Rapid Prototyping Cell – Need to assess the viability of your porous cup design swiftly? Our rapid prototyping cell can produce porous cup prototypes in as little as 2 weeks. Our engineers utilize equipment mirroring our main manufacturing setup, ensuring your porous cup design is both manufacturable and cost-effective.
Additive Manufacturing – For those seeking uniform porosity or unconventional porous cup designs, our porous 3D printing team is your ideal partner. We can engineer controlled porosity cups with varied density gradients in non-standard shapes, catering to the most distinctive design requirements. Our state-of-the-art technology enables us to print parts that are both solid and porous in a single print cycle.
Relevant Services for Porous Metal Cups
Lab Testing – If you require data packages or feasibility testing for your porous cup before installation, we're here to assist. At our lab center, we conduct various characterization and performance tests to ensure your porous cups meet stringent specifications.
Computational Fluid Dynamics – Interested in modeling how your process fluids interact with a Mott porous cup? Speak with your Mott representative about how we can utilize CFD software to provide insights specific to porous cups.
Engineering Memberships – For those consistently tackling intricate designs of porous cups that demand the pinnacle of engineering support, inquire about our membership rates. These memberships offer discounted access to a range of services, including lab testing, prototyping, and other vital engineering resources tailored for porous cup development.
Mott's Superior Porous Metal Cups: Precision and Performance
Porous metal cups are specialized components crafted from metal with a network of interconnected pores, allowing for controlled fluid or gas flow while effectively trapping and removing contaminants. These cups find applications in various industries, from filtration and separation processes to gas sampling and diffusion. The porous structure ensures precise filtration, making them ideal for applications that demand high purity and efficiency. Mott stands out in the provision of porous metal cups due to its advanced engineering techniques, proprietary materials, and decades of industry experience. With a commitment to quality and innovation, Mott's porous metal cups consistently deliver unmatched performance and reliability.
FAQs: Porous Metal Cups
Q: What is a porous cup?
A: A porous cup is a specialized component made from metal with a network of interconnected pores. It allows for controlled fluid or gas flow while effectively trapping and removing contaminants, making it ideal for various filtration and separation processes.
Q: How do Mott's porous cups differ from others in the market?
A: Mott's porous cups are crafted using advanced engineering techniques and proprietary materials. With decades of industry experience, Mott ensures that each porous cup offers superior filtration, durability, and efficiency, setting them apart from standard offerings in the market.
Q: In which applications are Mott's porous cups commonly used?
A: Mott's porous cups find applications in a wide range of industries, including chemical processing, gas sampling, diffusion, and more. They are essential in scenarios that demand precise filtration and high purity.
Q: How do I maintain and clean a Mott porous cup?
A: Mott designs its porous cups for easy maintenance. Depending on the type of contaminants and the cup material, they can be cleaned using methods like backflushing, ultrasonic cleaning, or specific chemical treatments. Regular maintenance ensures optimal performance and extends the cup's lifespan.
Q: Can I get a custom-designed porous cup from Mott?
A: Absolutely! Mott Corporation prides itself on its ability to work closely with clients to design and manufacture custom porous cups tailored to specific applications and operational conditions. Their engineering team collaborates with customers to ensure every cup meets the desired specifications.
Product Overview

Literature & Data Sheets

Product Specs

Videos & Articles

Design Capabilities

Relevant Services

Additional Info

FAQs