3D Printed Porous Polymer
Mott is the world leader in gradient structure and controlled-porosity additive manufacturing. We've expanded into polymer 3D printing to offer complex component designs produced completely in one print, even at high-pressure ratings. With our patent pending process, Mott can help you create custom parts with features and performance capabilities never before possible.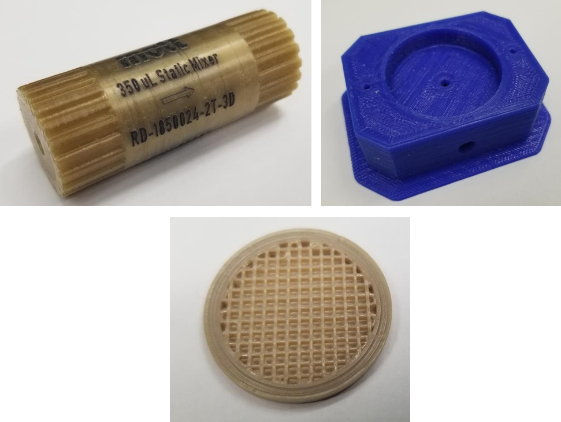 Literature & Data Sheets
Typical Applications
Bioprocessing In-Line Components
Diagnostic Instrument Manifolds
Chromatography Instrument Components
Tooling Fixtures
Semiconductor Equipment Filters
Our additive manufacturing capabilities provide the most uniform porosity and unique geometries for your application.
Provides an overview of markets served, applications, products, materials, and engineering capabilities.
Product Specs
Build Volume

Prototypes: 15.7" W x 11.8" D x 11.8" H (400mm x 300mm x 300mm)

Production: 18.0" W x 18.0" D x 32.0" H (457mm x 457mm x 813mm)

Build Materials

PEEK, PEKK, PEI, Nylon, ABS, Polyethylene, and many more

Solid feature size resolution

As Printed: +/- 0.010"

Machined: +/- 0.002"

Porosity range

100 microns and larger. For custom porosity integration, consult engineering

Pore shape

Lattice: Rectangular, Hexagonal, Triangular

Random: Under Development

Part-part dimensional consistency
Density

Up to 100% depending on polymer

Solid printed surface finish
Machined surface finish
Dimensions and Tolerances

Dimensions and tolerances are subject to the polymer chosen and overall part dimensions. Values presented here are typical for small parts, <1" (25mm) cross section printed in PEEK with a medium resolution extrusion nozzle.
Our Design Capabilities
CAD design for all solid, solid-to-porous, or all porous configurations
Aggregate multiple components into a single printed Bill of Material
Custom material and porosity printing, consult engineering
Relevant Services
Design Expertise – From start to finish, we customize solutions based on your design parameters – challenge us!
Fluid Modeling – Our extensive applications have built a library of data to increase the accuracy of our flow models to provide initial performance and feasibility estimates prior to building prototypes.
Extensive Partner Network – If a material is not listed or capability not in-house, we maintain an extensive network of partners for new material procurement, advanced manufacturing capabilities, and validation testing.
Engineering Support – If you need help beyond the component level, we also work on entire systems design.  Let us know how we can help.
Product Overview

Literature & Data Sheets

Product Specs

Videos & Articles

Design Capabilities

Relevant Services