Custom High Purity Filters
Mott is your trusted partner when it comes to custom filtration systems tailored to address your unique or challenging filtration requirements. Our team of skilled engineers specializes in crafting bespoke filtration solutions designed to meet the precise demands of your application. Whether you require intricate designs, specific materials, or advanced features, Mott's expertise in custom filtration systems ensures optimal performance and reliability. With decades of experience and a commitment to innovation, we excel in delivering tailored solutions that surpass industry standards and enhance your filtration processes.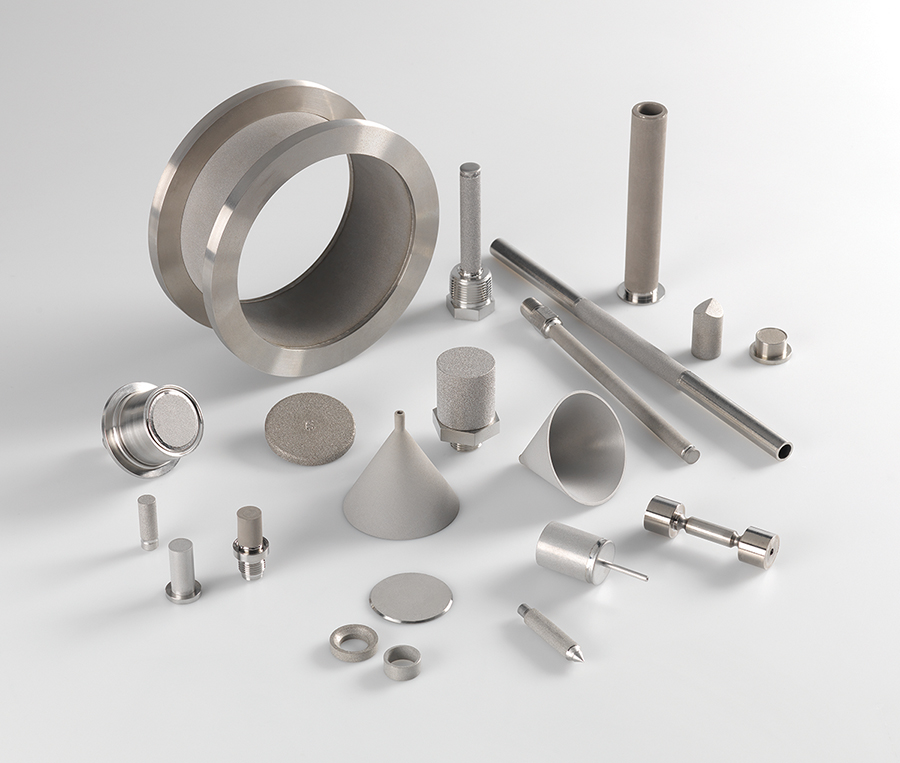 Literature & Data Sheets
Typical Applications
Protects downstream components from contaminants
Explore Mott's wide range of high purity filters, diffusers and flow restrictors designed exclusively for semiconductor manufacturers.
Product Specs
Materials

» Hardware: 316L SS, Nickel, Alloy 22* or custom alloy

» Filter Medium: 316L SS, 316L SS Fiber, Alloy 22* or custom alloy

*Alloy 22 or UNS N06022 is a nickel-chromium-molybdenum super-alloy commonly referred to as Hastelloy® C-22®
Our Design Capabilities for Custom Filtration Systems
At Mott, we possess a wide range of design capabilities tailored to meet the unique demands of custom filtration systems. Our expertise includes generating flow/pressure drop curves and optimizing filtration efficiency for a diverse array of system designs. We carefully consider gas compatibility to ensure that our custom filtration systems align seamlessly with your specific requirements. Furthermore, we offer customization options for filter media, pressure vessels, and fitting material and configurations, allowing us to craft filtration solutions that are precisely engineered to suit your needs.
Relevant Services for Custom Filtration Systems
Design Expertise: At Mott, we specialize in custom filtration systems from start to finish. We adapt solutions based on your unique design parameters. Challenge us with your specific requirements, and we'll deliver tailored solutions.
Fluid Modeling: Our extensive experience across various applications has allowed us to build a robust data library. This resource enhances the accuracy of our flow models, providing preliminary performance and feasibility estimates before prototype development for your custom filtration systems.
Extensive Partner Network: If a particular material or capability is not available in-house, we maintain an extensive network of trusted partners. This network facilitates new material procurement, access to advanced manufacturing capabilities, and validation testing to ensure the success of your custom filtration systems.
Engineering Support: Our team of expert engineers is at your disposal to design a custom high purity filter that perfectly fits your application. We bring decades of experience to the table, ensuring that your custom filtration systems meet the highest standards.
Why Choose Mott for Advanced Custom Filtration Systems?
Custom Filtration Systems refer to specialized filtration solutions designed to meet unique and often complex requirements in various industries. These systems are crucial for achieving precise filtration and separation of substances in applications where off-the-shelf solutions may fall short.
Mott excels in providing components for advanced Custom Filtration Systems due to several key factors. Firstly, their extensive design expertise allows them to tailor solutions to the specific parameters and challenges of each application. This adaptability ensures that the filtration system performs optimally. Secondly, Mott's commitment to fluid modeling enhances the accuracy of their flow models, enabling them to provide initial performance and feasibility estimates before building prototypes. Lastly, their extensive partner network and engineering support ensure that they can source the best materials and collaborate with clients to create custom high-purity filters that precisely match their unique needs. Mott's dedication to innovation, quality, and customization makes them a top choice for advanced Custom Filtration Systems.
FAQs: Custom Filtration Systems
Q: What are custom filtration systems, and why might I need one?
A: Custom filtration systems are specialized solutions designed to meet unique and complex filtration requirements. You might need one when standard filtration solutions cannot effectively address your specific challenges, such as unusual substances, extreme conditions, or precise filtration demands.
Q: Why should I choose Mott for my custom filtration system needs?
A: Mott is a trusted leader in custom filtration systems due to its extensive design expertise, fluid modeling capabilities, and an extensive partner network. These resources enable Mott to deliver tailored solutions that precisely match your application's requirements.
Q: Can Mott provide preliminary estimates for custom filtration system performance?
A: Yes, Mott's fluid modeling capabilities allow them to provide initial performance and feasibility estimates before moving on to prototype development, helping you understand the potential outcomes of your custom filtration system.
Q: How does Mott ensure the quality and reliability of components for custom filtration systems?
A: Mott maintains high standards of quality and reliability through decades of experience, an extensive partner network for materials and testing, and a team of expert engineers dedicated to designing custom filtration components that meet the most stringent requirements.
Q: Are Mott's custom filtration systems suitable for a wide range of industries and applications?
A: Yes, Mott's custom filtration systems are highly versatile and can be adapted to various industries, including semiconductor manufacturing, aerospace, pharmaceuticals, and many others. They excel in addressing diverse filtration challenges.
Product Overview

Literature & Data Sheets

Product Specs

Videos & Articles

Design Capabilities

Relevant Services

Additional Info

FAQs