Loop Heat Pipe
Mott's sintered media pore structure provides unique wicking properties driven by capillary action of amorphous metal particles. For example, in loop heat pipe applications, a custom-designed interior can wick process water 360 degrees around the pipe to ensure uniform heat distribution is unimpeded by a buildup of fluid.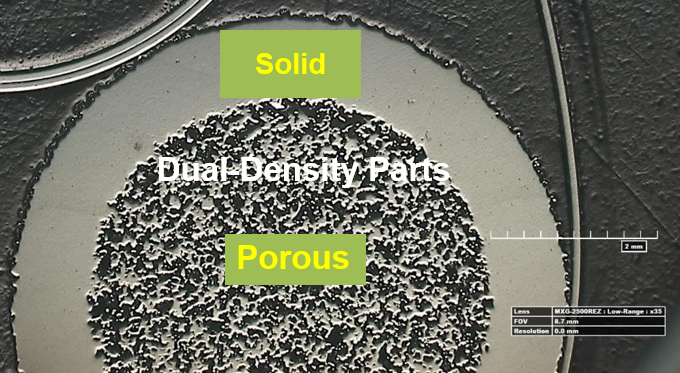 Literature & Data Sheets
Typical Applications
Electronics cooling
Space vehicles thermal control
Advanced weapons thermal systems
Surgical and diagnostics devices
Laser diodes
Heat exchangers
Check out the features and benefits of Mott sintered porous metal media that delivers uniform porosity for superb filtration efficiency and structural integrity.
Our additive manufacturing capabilities provide the most uniform porosity and unique geometries for your application.
Discover our entire range of services, including rapid prototyping, filter feasibility, media characterization and more.
Product Specs
Dimensions

Length – Tube form wicks:
Many options – consult factory

Standard Diameters – 1", 1.5", 2", 2.5", 2.75", 3"

Wall Thickness – .039" to .093" (Dependent on media grade)

Custom options are available, consult factory

Material Choices

Standard filter and hardware alloys – 316L SS, 310 SS, Titanium, Inconel® 600, Hastelloy® C-276, Hastelloy® X, Monel® 400, Nickel 200

Other alloys are available, consult factory

Hardware Options

Extension hardware and fitting options available for full assembly – Standard piping, End-fittings like compression, NPT, or VCR®

Custom options available, consult factory

Media Grades

Nominal pore sizes available – 0.2, 0.5, 2, 5, 10, 20, 40, 100

Custom options available, consult factory

Performance Testing

Lab validation tests available
Our Design Capabilities
Diverse Hardware Options
Additive Manufacturing Capabilities
Relevant Services
Design Expertise – From start to finish, we customize solutions based on your design parameters – challenge us!
Fluid Modeling – Our extensive applications have built a library of data to increase the accuracy of our flow models to provide initial performance and feasibility estimates prior to building prototypes.
Extensive Partner Network – If a material is not listed or capability not in-house, we maintain an extensive network of partners for new material procurement, advanced manufacturing capabilities, and validation testing.
Engineering Support – If you need help beyond the component level, we also work on entire systems design.  Let us know how we can help.
Product Overview

Literature & Data Sheets

Product Specs

Videos & Articles

Design Capabilities

Relevant Services