Flame Arrestor
Our highly-engineered custom sintered porous metal assemblies are a popular choice for flame arrestors because they allow precise gas flow control while providing a mechanically sound media to quench the flame front. Sintered porous metal flame arrestors offer a cost-effective solution for high-volume devices, especially for applications that require the prevention of a flame during an intense explosion event. Our flame arrestors are compliant with ATEX, FM, UL, CSA, and other standards and directives.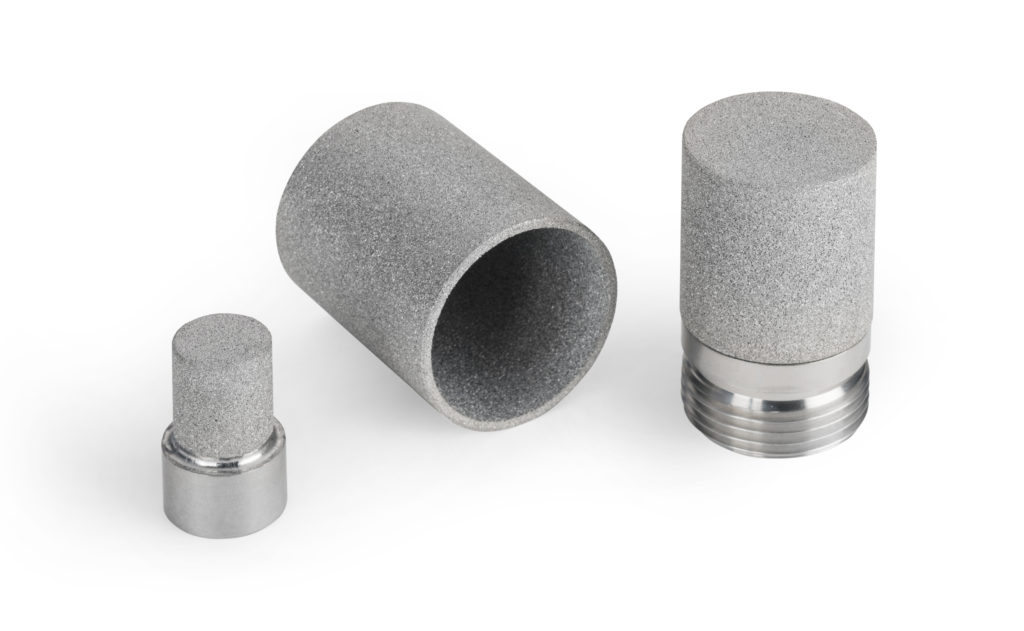 Literature & Data Sheets
Typical Applications
Production processes and gas lines using combustible gases
Gas analyzers in combustible atmospheres
Acetylene gas welding torches
Product Specs
Dimensions

Standard Dimensions, custom options available consult factory

Material Choices

Standard filter and hardware alloys – 316L SS, 310 SS, Titanium, Inconel 600, Hastelloy® C-276, Hastelloy® X, Monel® 400, Nickel 200

Other alloys are available, consult factory

Hardware Options

Extension hardware and fitting options available for full assembly – Standard tubing, End-fittings like compression, NPT, or VCR®

Custom hardware options available, consult factory

Media Grades

Nominal pore sizes available – 0.2, 0.5, 2, 5, 10, 20, 40, 100

Custom options available, consult factory

Performance Testing

Lab validation tests available. Ask a Mott representative about using our Customer Innovation Center to support your next project.
Our Design Capabilities
From component level to full Flame Arrestor assemblies, we can design and manufacture complete solutions in flame arresting.
Diverse Hardware Options
Additive Manufacturing Capabilities
Relevant Services
Design Expertise – From start to finish, we customize solutions based on your design parameters – challenge us!
Engineering and Qualification Validation Support – If you need help beyond the component level, we also work on systems and test procedures to help you get qualified and approved.  Let us know how we can help.
Fluid Modeling – Our extensive applications have built a library of data to increase the accuracy of our flow models to provide initial performance and feasibility estimates prior to building prototypes.
Extensive Partner Network – If a material is not listed or capability not in-house, we maintain an extensive network of partners for new material procurement, advanced manufacturing capabilities, and validation testing.
Product Overview

Literature & Data Sheets

Product Specs

Videos & Articles

Design Capabilities

Relevant Services