Terephthalic Acid Filters
Mott has been the leader in filtration of both crude terephthalic acid (CTA) and purified terephthalic acid (PTA) for decades using both HyPulse® LSI and LSM technologies.  Mott liquid filters are easily configurable to handle multiple wash and purge steps necessary in the CTA and PTA processes to ensure product quality.  Mott terephthalic acid filters reduce caustic acid consumption in the CRU, reduce organic loads to wastewater treatment and can recover up to 2 wt.% solids from CTA or PTA applications.  For applications designed around corrosion metal control, the Mott LSI can act as an intermediate filter, removing precipitated corrosion metals before downstream processing.  The average return on investment for a Mott LSI in a CTA or PTA application is two years.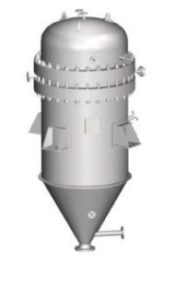 Literature & Data Sheets
Typical Applications
CRU Corrosion Metal Removal
CTA Residue Stream Catalyst Recovery
PTA Mother Liquor Recovery
PTA Makeup Catalyst Recovery
Product Specs
Vessel Diameter

Standard Diameters – 4" to 72" diameter vessels are standard to accommodate a wide range of flow rates.

Custom vessels are available upon request, consult factory

Filtration Efficiency

Various media grade elements are available to capture solids at greater than 99% removal efficiency, depending on the particle size distribution of the solids

Material Choices

Standard filter element alloys – 316L SS, 310 SS, Hastelloy C-276, Hastelloy X, Monel 400, Nickel 200, Inconel 600

Standard vessel alloys – 316L SS, Hastelloy

Other alloys are available, consult factory

Operating Temperatures

Alloys with temperature resistance up to 1700 degrees Fahrenheit are available.

Custom alloys available to accommodate unique operating temperatures, consult factory

Cleaning

Mott Terephthalic Acid Filters are designed for clean-in-place performance, meaning filter elements can discharge cake build-up without having to open the filter for maintenance. Once a terminal pressure drop has been reached, the cleaning cycle automatically initiates to discharge cake build-up through gas-assisted pulse or through a backwash cycle.

Particles will embed in the filter media over time, requiring the elements to be cleaned by a third-party company. Various cleaning techniques can be used to prolong life of the elements. For a recommendation of a cleaning company, please contact a Mott representative. It is recommended you keep a spare set of filter elements to continue operations while elements are being cleaned.
The Mott Filter Design Process
Filter Feasibility Testing – In our Customer Innovation Center, we will replicate, or very closely correlate, your process conditions to determine the appropriate media grade and material for your application. We will provide you with a comprehensive, in-depth analysis to prove the feasibility of using porous metal in your process and furnish you with a comprehensive ROI justification.
Pilot Testing – As an option, we can install a pilot unit in your facility enabling you to witness, first-hand, how our filters will perform in your process stream and under your actual operating temperatures and pressure conditions.
Front-End Engineering Design – Our Front-End Engineering Design (FEED) process provides you with a complete process engineering package, including vessel drawings, a preliminary equipment layout drawing, piping and instrumentation diagram, process flow diagram, valve and instrument list, and a detailed process functional description.
Fabrication – When it comes to fabricating your system, we can handle as much or as little as you need – from fabricating only the filter vessel, to providing a complete turnkey skid system.
Operational Support – When your filtration system is complete, our professionals can provide equipment commissioning and startup services, training, ongoing technical support and quality assurance testing for the life of your system.
Depending on your needs, Mott can provide just the filter elements, a vessel and elements, or provide you a full turnkey system with the vessel, frame, piping, instruments, and controls

Relevant Services
Filter Feasibility Testing – Want a recommendation on the correct filter media, alloy, and backwash frequency for your process? Coordinate with a Mott representative to send a sample of your feed stock to our lab to determine the correct filtration design for your process.
Preventative Maintenance Cycles – Consult with a Mott representative about utilizing a pre-determined lab testing and cleaning schedule to avoid costly downtime.
Engineering Support – Utilize our expert project engineers to design the right filter elements to maximize flow and particle capture.
Destructive Element Analysis – Send us one of your elements for various analyses to determine the remaining lifetime and filtration efficiency of your filters.
Product Overview

Literature & Data Sheets

Product Specs

Videos & Articles

Design Capabilities

Relevant Services