Gas Sampling Filters
All-metal inertial gas sampling (IGS) filters, also known as gas sampling filters, from Mott facilitate the gathering of particle-free samples from almost any gas stream. These gas sampling filters are especially effective in streams that are extremely hot or heavily contaminated. Mott's expertise in crafting these gas sampling filters ensures consistent performance and reliability across diverse industrial applications.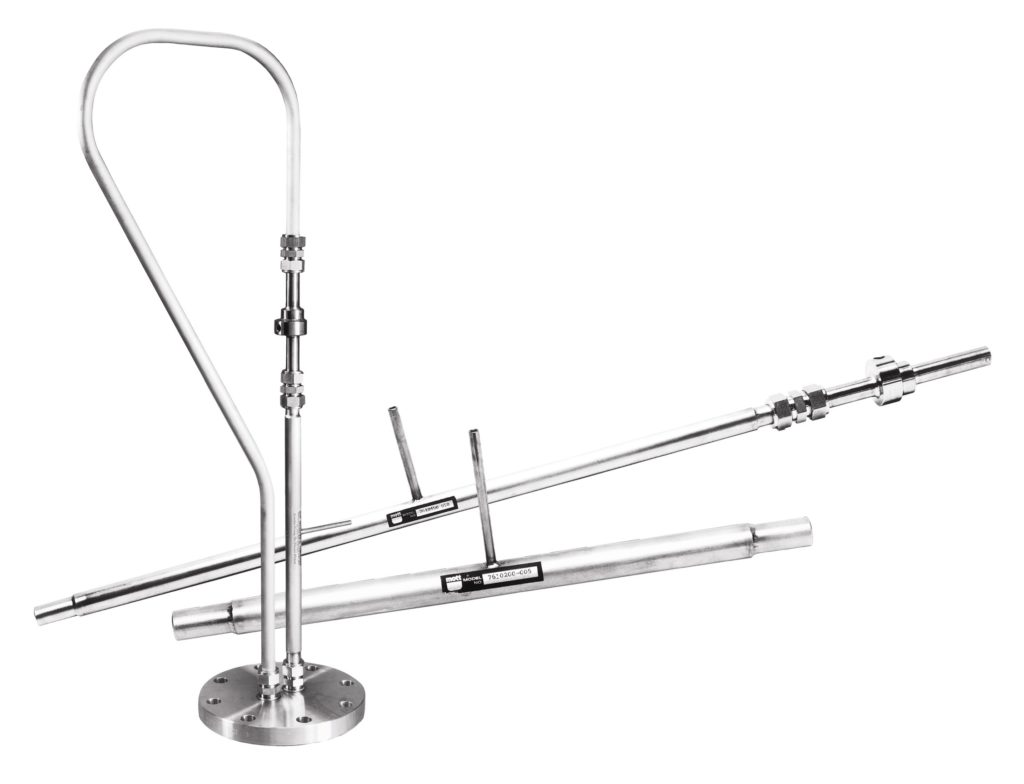 Literature & Data Sheets
Typical Applications
Regenerator flue gas
Oxygen analysis
Carbon Monoxide
An overview of how Mott inertial gas sampling (IGS) filters work, the various configurations available, product specifications and design parameters.
Discover our entire range of services, including rapid prototyping, filter feasibility, media characterization and more.
Provides an overview of markets served, applications, products, materials, and engineering capabilities.
Product Specs
Materials and Operating Temperature

Custom alloys are available upon request, consult factory

Overall Length

Common Lengths – 10", 16", 24", 36", 48", 60", 76"

Custom lengths available upon request, consult factory

Recommended Max Flow Rate

Common Flow Rates – 0.5-12 SLPM
Our Design Capabilities for Gas Sampling Filters
Application Engineering – Need consultation on your gas sampling filter design? Our team of application engineers is ready to assist. With decades of experience working with the world's largest technical and performance brands, we specialize in crafting the ideal gas sampling filter to address complex challenges.
Customer Innovation Center – We take pride in collaborating with customers on intricate gas sampling filter projects. We've dedicated an entire facility to this endeavor. Interested in hands-on lab testing and engineering consultation for your gas sampling filter needs? Visit our Customer Innovation Center in Connecticut to co-develop a tailored solution.
Rapid Prototyping Cell – Want to assess the viability of your gas sampling filter design swiftly? Our rapid prototyping cell can produce prototypes in as little as 2 weeks. Our engineers utilize equipment mirroring our main manufacturing facility, ensuring your design is both manufacturable and cost-effective.
Additive Manufacturing – For those seeking uniform porosity or unconventional gas sampling filter designs, our porous 3D printing team is your go-to. We can craft controlled porosity designs with varied density gradients in non-standard shapes, catering to the most distinctive design requirements. Our cutting-edge technology enables us to print parts that are both solid and porous in a single print cycle.
Relevant Services for Inertial Gas Sampling Filters
Lab Testing – If you require data packages or feasibility testing for your gas sampling filter before installation, we're here to assist. At our lab center, we conduct various characterization and performance tests to ensure your gas sampling filters meet stringent specifications.
Computational Fluid Dynamics – Interested in modeling how your process fluids interact with a Mott gas sampling filter? Speak with your Mott representative about how we can utilize CFD software to provide insights specific to gas sampling filters.
Engineering Memberships – For those consistently tackling intricate designs of gas sampling filters that demand the pinnacle of engineering support, inquire about our membership rates. These memberships offer discounted access to a range of services, including lab testing, prototyping, and other vital engineering resources tailored for gas sampling filter development.
FAQs: Gas Sampling Filter
Q: What is a gas sampling filter?
A: A gas sampling filter is a specialized device designed to collect particle-free gas samples from various environments. Mott's gas sampling filters ensure that samples are uncontaminated, providing accurate and reliable data for analysis.
Q: How does Mott's gas sampling filter stand out from other filters in the market?
A: Mott's gas sampling filters are crafted using advanced engineering and proprietary techniques, ensuring consistent pore sizes and unparalleled structural integrity. With decades of experience, Mott offers filters that are durable, efficient, and tailored to meet specific application requirements.
Q: In which industries or applications are Mott's gas sampling filters commonly used?
A: Mott's gas sampling filters are versatile and find applications in various industries, including petrochemical, environmental monitoring, industrial process control, and research laboratories, among others. They are essential wherever precise and uncontaminated gas samples are required.
Q: How do I maintain and clean a Mott gas sampling filter?
A: Mott's gas sampling filters are designed for easy maintenance. Depending on the type of contaminants and the filter material, they can be cleaned using methods like backflushing, ultrasonic cleaning, or specific chemical treatments. Regular maintenance ensures optimal performance and longevity.
Q: Can I get a custom-designed gas sampling filter from Mott?
A: Absolutely! Mott prides itself on its ability to work closely with clients to design and manufacture custom gas sampling filters tailored to specific applications and operational conditions. Their engineering team collaborates with customers to ensure every filter meets the desired specifications.
Q: How does Mott ensure the quality of its gas sampling filters?
A: Mott employs rigorous quality control measures throughout the manufacturing process of its gas sampling filters. From material selection to the final assembly, every step is monitored and tested to ensure the filters meet the highest standards of quality and performance.
Product Overview

Literature & Data Sheets

Product Specs

Videos & Articles

Design Capabilities

Relevant Services

FAQs