Porous Transport Layers for Electrolysis
For customers working on electrolysis applications, such as hydrogen generation, Mott supplies titanium porous transport layers as thin as .010″, resulting in lower oxidation rates, smaller footprints, and better resistance to bending and cracking. This material is widely used in applications such as on-site gas generation and mega stacks. Thin Ti sheets are available in many sizes and can be coated with various catalysts, such as platinum, to improve conductivity and oxidation resistance. In addition to titanium, Mott offers other alloys for different applications. We also supply product in small quantities for single cell testing.
High-quality PTLs, such as those manufactured using a titanium sintered porous sheet method, play a crucial role in determining the performance of your anode. For use in high-performance electrolysis, we recommend using Mott's thin titanium sinters in combination with thin, compatible membranes.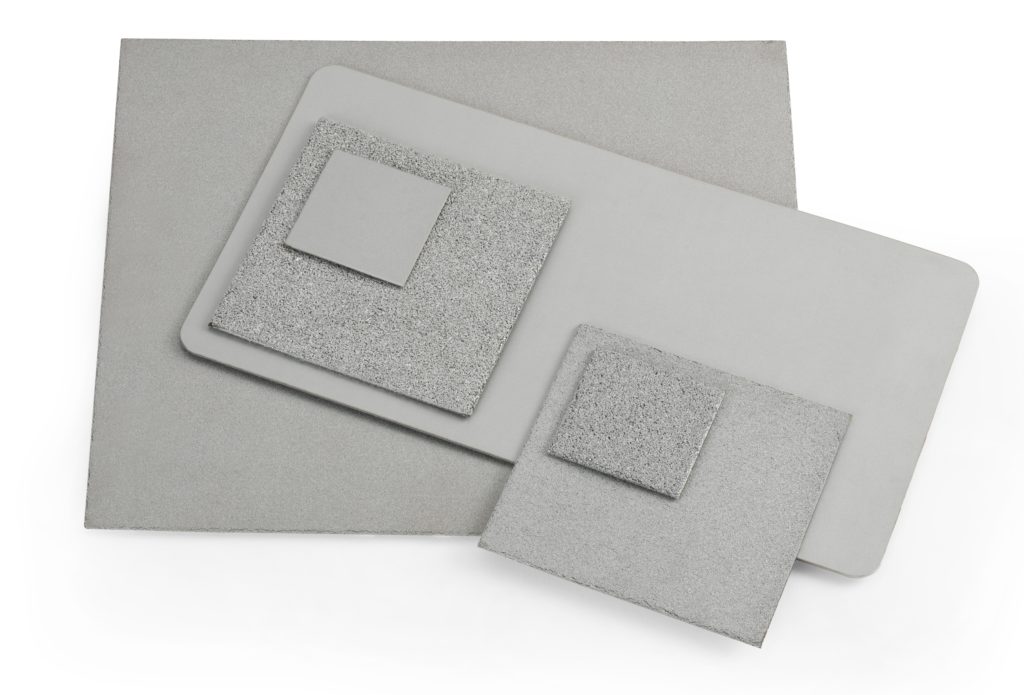 Literature & Data Sheets
For engineering and manufacturing applications, the results of electrolysis are limited by the quality of the equipment and processes used. Efficient, consistent electrolysis requires finely calibrated, intelligently designed equipment. Oftentimes, getting the right results is a matter of having the correct porous transport layers – or PTLs – for your particular electrolysis applications. PTLs are thin components in an electrolytic cell, typically made of titanium foil and built with a highly specific porous structure. These titanium porous transport layers provide the ideal surface area and flowage for use in high-end electrolysis applications.
Typical Applications
Hydrogen generation and storage
Gas generation in spacecraft
Mott Porous Transport Layers achieve high power densities in gas generation applications due to a proprietary ultra-thin design resulting in better mass transport and a smaller footprint.
Mott Corporation's acceptance criteria for ultra-thin sheet used in PEM electrolyzers. For a titanium sintered porous sheet to remain usable and reliable in a high-intensity porous transport layer application the titanium must be of a very specific quality. Mott's experts have an in-depth understanding and knowledge of titanium and the other materials we use to build the custom high-end porous transport layer systems that contribute to the success of our partners' projects.
Product Specs
Length

Common Lengths – 10″, 20″

Sheet can be laser cut or sheered into smaller pieces if needed. If you need a custom length, please consult factory.

Width

Common Widths – Less than 11"

Sheet can be laser cut or sheered into smaller pieces if needed. If you need a custom width, please consult factory.

Thickness

Common Thicknesses – .010-.125" (dependent on media grade)

Custom lengths available, consult factory

Media Grades

Common Media Grades – 10

Custom media grades available upon request, consult factory

Materials

Common alloys – 316LSS, Titanium, Nickel 200, Hastelloy C-276, Inconel 600

Custom alloys available upon request, consult factory

Temperatures

Alloys with temperature resistance up to 1700 degrees Fahrenheit are available.

Custom alloys available to accommodate unique operating temperatures, consult factory
Our Design Capabilities
Application Engineering – Need consultation on your design? Our team of application engineers are ready to help you determine the right part for your design. With decades of experience of working with the world's largest technical and performance brands, we're eager to solve complex problems with you.
Customer Innovation Center – We enjoy working with customers on complex projects. In fact, we've dedicated an entire facility to it. Want to join us for various lab testing and engineering consultation sessions? Visit our Customer Innovation Center in Connecticut to develop a solution for your unique application.
Rapid Prototyping Cell – Trying to determine the feasibility of your design as fast as possible? Use our rapid prototyping cell to turn around prototypes in as little as 2 weeks. Our engineers will work with equipment similar to our manufacturing facility to provide you with a manufacturable, economical design.
Additive Manufacturing – If you're looking for the most uniform porosity or a non-traditional design, look no further than working with our porous 3D printing team. We can create controlled porosity designs with various density gradients in non-traditional shapes to satisfy the most unique design request. Our technology allows us to print parts with both solid and porous in a single print cycle. Unconventional installations and specialty applications that have never before been considered have become much easier to adapt and manufacture with modern 3D printing technology. Mott can even handle designing sensitive PEM Electrolyzer components and parts and all other aspects of your hydrogen farming or spacecraft gas generation system.
Relevant Services
Lab Testing – If you need data packages or feasibility testing for your part prior to installation, we're happy to work with you. We'll use our lab center to perform various characterization and performance tests to ensure your parts are meeting strict specifications.
Computational Fluid Dynamics – If you would like to model your process fluids interaction with a Mott part, ask your Mott representative how we can use CFD software.
Engineering Memberships – If you're constantly working on complex designs that require the highest standards of engineering support, ask about our membership rates, which allow you discounted rates to various lab testing, prototyping, and engineering resources. Mott's specialties don't stop at PTLs. We are dedicated to offering our partners valuable end-to-end support and investing in the long-term success of your projects. Ask about Mott's expertise in other aspects of designing and outfitting high-end propulsion systems. We are the experts in propulsion filtration, fuel cells, and more, in addition to our unparalleled understanding of PTLs. Put our experienced professionals to work for you today!
Mott Corp can supply porous transport layers for electrolysis, as well as PEM electrolyzer components and other custom parts built to your exact needs and specifications. Or, you can bring Mott Corp's expert engineers and consultants on board from day one and allow us to lend our years of experience and success to the design and development phase of your electrolysis application.
If you have any additional questions about porous transport layers or are undertaking a project related to spacecraft gas generation, contact the Mott Corporation team at 860.864.5017 or submit an information request through our online form. A Mott representative will be in touch soon to discuss how we can contribute to your project's success.
Product Overview

Literature & Data Sheets

Product Specs

Videos & Articles

Design Capabilities

Relevant Services