Column Frits
PerfectPeak® porous chromatography frits are used in HPLC columns to retain the packing media and provide a uniform flow of the sample through the column with low hold up volume. These frits withstand high pressures and highly corrosive chemicals. Bio-inert options are available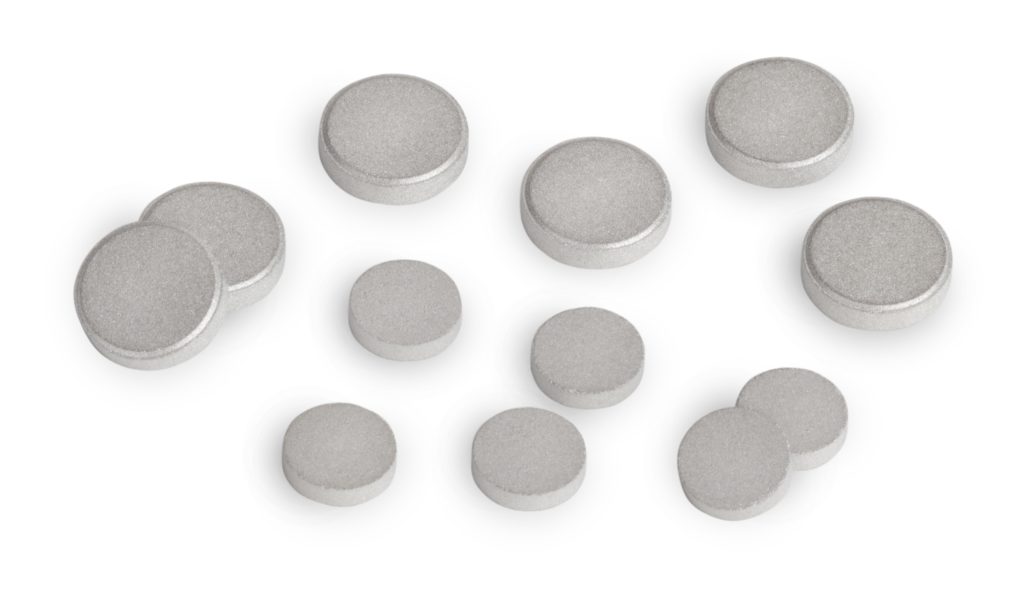 Literature & Data Sheets
Typical Applications
PerfectPeak® Filter and Column Frits offer a wide variety of options and additional benefits to produce the most optimal results in your system.
Mott sintered porous metal media overview of features and benefits for high filtration efficiency, structural integrity, uniform porosity, and application considerations.
Mott's pressed and sintered porous metal frits are used in liquid chromatography columns to filter microbial and inorganic contaminants.
Product Specs
Geometry

Unidense – Uniform flow across the entire column
Dual Density – Limit flow to the interior region of the frit and reduce dead volume
Concave – Enhance flow uniformity without the need for a flow distribution plate

Dimensions

Diameter

– Standard disc diameters available from 0.062" to 0.750"

Thickness

– Standard thicknesses of 0.028" and 0.062"

Pore Size

• 0.2, 0.5, and 2 µm

– Standard option for HPLC/UHPLC filtration


• 2, 5, 10, and 20 µm

– Standard options for semi-prep filtration

Alloy

• 316L SS

– Standard HPLC/UHPLC applications


• Titanium

– Bio-inert applications


• Hastelloy®

– Bio-inert applications with corrosive solvents

Sealing Material

• Metal

– Robust sealing surface that can withstand harsh environments


• PEEK

– For most bio-inert applications requiring standard sealing


• PTFE

– Economical solution for frits requiring the most bio-inert of materials

Assembly Method

• Press Fitting –

Standard assembly method for all frits


• Sinter Bonding

– For ultimate durability (only available for metal sealing materials)
Our Design Capabilities
Mott can also design and manufacture 3D printed metal frits with tight pore size distribution down to 2 µm nominal pore size and solid to porous metal printing to eliminate press fit sealing rings.
Relevant Services
Engineering Support – Utilize our expert engineers to consult your process and design the right frit for your column specifications.
Product Overview

Literature & Data Sheets

Product Specs

Videos & Articles

Design Capabilities

Relevant Services