Bioprocessing Flow Reactors
Mott proprietary and customizable 3D printed flow reactor static mixers are up to 3x more efficient with lower residence time and internal volume than traditional helical static mixers in bioprocessing and other pharmaceutical applications. By harnessing the power of computational fluid dynamics (CFD) in conjunction with metal and polymer material options, our products optimize mixing performance and ensure compatibility for unique biopharma applications.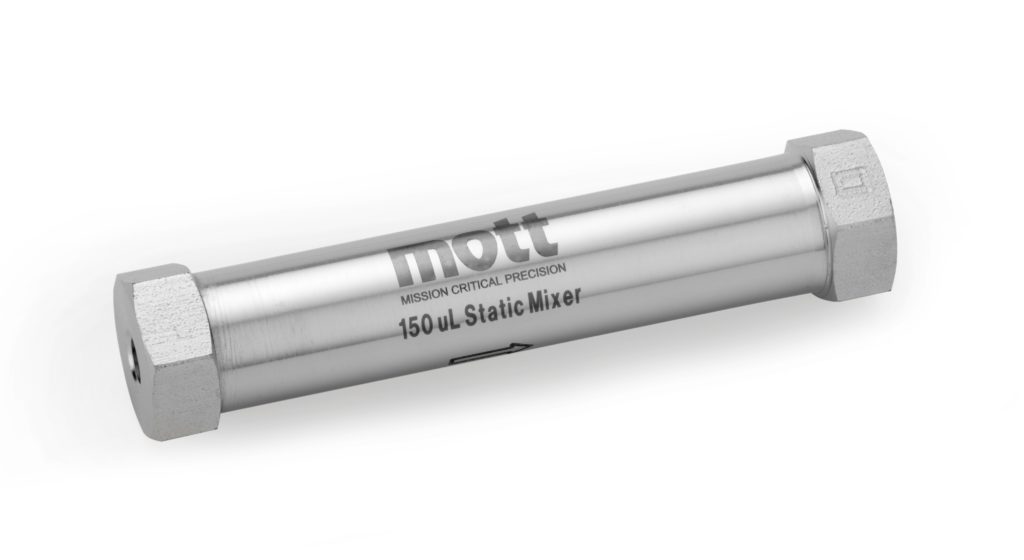 Literature & Data Sheets
Typical Applications
Bioprocessing
Flow Chemistry
Overview and specifications of Mott mixer products
Computational Fluid Dynamics (CFD) modeling is an excellent service to accelerate product development. It allows for cost-effective equipment sizing and identification of optimal operational parameters.
Discover our entire range of services, including rapid prototyping, filter feasibility, media characterization and more.
Product Specs
Internal Volume

MIXER25: 25µl

MIXER50: 50 µl

MIXER100: 100 µl

MIXER150: 150 µl

Material of Construction
Pressure Rating
Connection Type
Connection Size
Customization

Custom connections are available upon request
Our Design Capabilities
Custom designs are available to meet your unique mixing or dwell volume needs. Various unique alloys, such as PEEK, are available for development on request.
Relevant Services
Lab Testing – If you need data packages or feasibility testing for your part prior to installation, we're happy to work with you. We'll use our lab center to perform various characterization and performance tests to ensure your parts are meeting strict specifications.
Computational Fluid Dynamics – If you would like to model your process fluids interaction with a Mott part, ask your Mott representative how we can use CFD software.
Engineering Memberships – If you're constantly working on complex designs that require the highest standards of engineering support, ask about our membership rates, which allow you discounted rates to various lab testing, prototyping, and engineering resources.
Product Overview

Literature & Data Sheets

Product Specs

Videos & Articles

Design Capabilities

Relevant Services