Flow Reactors for Bioprocessing
Mott proprietary and customizable 3D printed flow reactor static mixers outperform traditional helical static mixers in bioprocessing and other pharmaceutical applications up to 3x more efficient with lower residence time and internal volume.  Utilizing computational fluid dynamics (CFD) in conjunction with metal and polymer material options enables optimized mixing performance with specific compatibility for unique biopharma applications.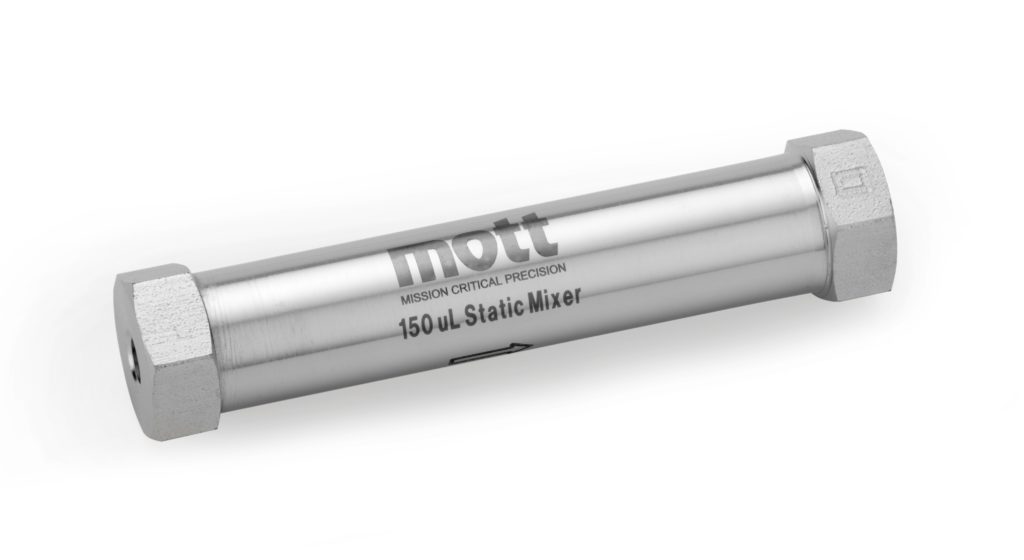 Literature & Data Sheets
Typical Applications
Bioprocessing
Flow Chemistry
Overview and specifications of Mott mixer products
Rapid Prototyping, SEM/EDS Analysis, Cleanliness Testing, Quantitative Chemical Analysis, Filtration Performance and Feasibility Testing, Mechanical Properties Testing, Media Characterization, Failure Analysis and Lifecycle Testing, Metallography
Product Specs
Internal Volume

MIXER25: 25µl

MIXER50: 50 µl

MIXER100: 100 µl

MIXER150: 150 µl

Material of Construction
Pressure Rating
Connection Type
Connection Size
Customization

Custom connections are available upon request
Our Design Capabilities
Custom designs are available to meet your unique mixing or dwell volume needs. Various unique alloys, such as PEEK, are available for development on request.
Relevant Services
Destructive Element Analysis – Send us one of your elements for various analyses to determine the remaining lifetime and filtration efficiency of your filters.
Filter Feasibility Testing – Want a recommendation on the correct filter media, alloy, and backwash frequency for your process? Coordinate with a Mott representative to send us a sample of your feed stock to our lab to determine the correct filtration design for your process.
Preventative Maintenance Cycles – Consult with a Mott representative about utilizing a pre-determined lab testing and cleaning schedule to avoid costly downtime for your process
Engineering Support – Utilize our expert project engineers to consult your process and design the right filter elements to maximize flow and particle capture.
Product Overview

Literature & Data Sheets

Product Specs

Videos & Articles

Design Capabilities

Relevant Services