Gas Purifiers Manufacturer
Gas purifiers that eliminate moisture, particles, and impurities from crucial process gas supplies have become an important fixture in most modern facilities. As a global supplier of gas purifiers that provide parts-per-trillion gas purity, Mott works with integrators, gas suppliers and contractors to ensure process consistency and performance requirements are met.
Gas purifiers by Mott offer high efficiency, reliability, and product consistency to improve gas delivery yield and process integrity. Ultra-high purity applications call for the most sophisticated gas purification systems available, and Mott delivers just that! If your project or facility requires custom solutions, we've got you covered. Our gas purifiers are available in point-of-use, micro-bulk and surface mount configurations and can be customized to meet your critical design requirements. Remove moisture, particles, oxygen, CO2, CO and many other impurities with our diverse gas purifier product offering.
Have questions? Call 860.672.3543 or submit an information request form and someone will get back to you within 48 hours.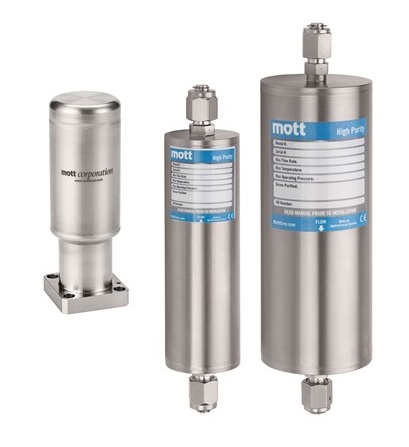 Literature & Data Sheets
Typical Applications
Mott gas purifiers remove impurities from process gases in high purity and ultra-high purity applications. Whether you need to remove moisture and particles from a gas line before feeding it into sensitive equipment or you need to clean up purge gas before exhausting it, Mott's gas purifiers and solutions provide highly effective solutions (both in terms of cost and results).
Semiconductor process equipment
Weld gas/purge gas
Glove box purge gas
Annealing cover gas
Additive manufacturing
Pharmaceutical production
Solar and energy
Other emerging technologies
Product Specs
Point-of-Use & Micro-Bulk Gas Purifiers

Material:  316L stainless steel

Filter Media:  316L stainless steel

Flexible Sizes and Configurations:  Inlet/Outlet fittings and valves, face-to-face matching available

Filtration:  0.0015 µm standard

Helium Leak Rating:  1 x 10-9 atm cc/sec

Outlet Purity:  < 100 PPT

Pressure Drop:  < 2 psid

Wetted Hardware Surface:  Electro-polished, < 10 Ra, 316L stainless steel

Lifetime:  One year given 24/7 operation at nominal flow rate and typical 5N (99.999%) combined inlet impurity

Custom designs and fittings available upon request

Point-of-Use, Micro-Bulk and Surface Mount Gas Purifier Sizing

Point-of-Use Purifiers

1.5″ – 2.0″ OD

Standard OAL range: 3.31″ – 8.2″

Standard fittings 1/4″ VCR®

Micro-Bulk Purifiers

3.0″ – 6″ OD

Standard OAL range: 7.9″ – 51″

Standard fittings are 1/2″ VCR®

Custom Sizes Are Also Available

Surface Mount Purifiers

1.125″ C-Seal Base

Standard OAL: 3.30″

Point-of-Use Gas Purifier Operating Conditions

Max Operating Pressure:    250 PSIG (17.24 BAR)

Typical Operating Temperature Range:    0°C-50°C (32°F-120°F)

Max Operating Temperature:    50°C (120°F)

Nominal Flow Rate:    0 to 8 slpm depending on vessel size

Max Flow Rate:    0 slpm to 32.5 slpm depending on vessel size

Micro-Bulk Gas Purifier Operation Conditions

Max Operating Pressure:    200 PSIG (13.79 BAR)

150 PSIG (10.34 BAR) – 6″ Only

Typical Operating Temperature Range:    0°C-50C (32°F-120°F)

Max Operating Temperature:    50°C (120°F)

Nominal Flow Rate:    See table on cutsheet

Max Flow Rate:    10 slpm to 2300 slpm

Surface Mount Gas Purifier Operation Conditions

Max Operating Pressure:    1800 PSIG (124.1 BAR)

Typical Operating Temperature Range:    0°C-50C (32°F-120°F)

Max Differential Pressure:  150 psid (10.3 bar)

Performance in HBr:    See table on cutsheet

Mott Gas Purifier Part Description

MGP – Mott Gas Purifier

-OD

-Length

-Class Type

-Filter Type

-Connection Type
Relevant Services
Make Gas Purification a Core Aspect of Your System
Many systems and processes fail to consider gas purification as a fundamental aspect during the design phase. However, considering things like process gases and gas delivery yields in the earliest stages of designing and testing your system will result in better outcomes and more efficient systems. Mott's team of experienced professionals has vast skill sets in manufacturing, design, engineering, and science and is ready to help you bring your ultra-high purity applications to life. The earlier you bring Mott on board, the better you can leverage our vast expertise and array of tools.
Design Expertise – From start to finish, we customize solutions based on your design parameters – challenge us!
Fluid Modeling – Our extensive applications have built a library of data to increase the accuracy of our flow models to provide initial performance and feasibility estimates prior to building prototypes.
Extensive Partner Network – If a material is not listed or capability not in-house, we maintain an extensive network of partners for new material procurement, advanced manufacturing capabilities, and validation testing. Let us help you access the vital resources you need for your next project.
Engineering Support – Utilize our expert engineers to consult your process and choose the right point of use filters for your application. From standalone gas purifiers to complete, custom end-to-end design and testing for new processes and systems, Mott is here to put our expertise behind your project's success.
Product Overview

Literature & Data Sheets

Product Specs

Videos & Articles

Relevant Services