Micro Spargers for Bioreactors
Micro spargers from Mott reduce bubble size and increase gas transfer and kLa to reduce gas consumption and improve upstream reactor yields. Micro spargers can increase mass transfer rates by 100% to 400% over standard drilled pipe or single-opening dip tubes.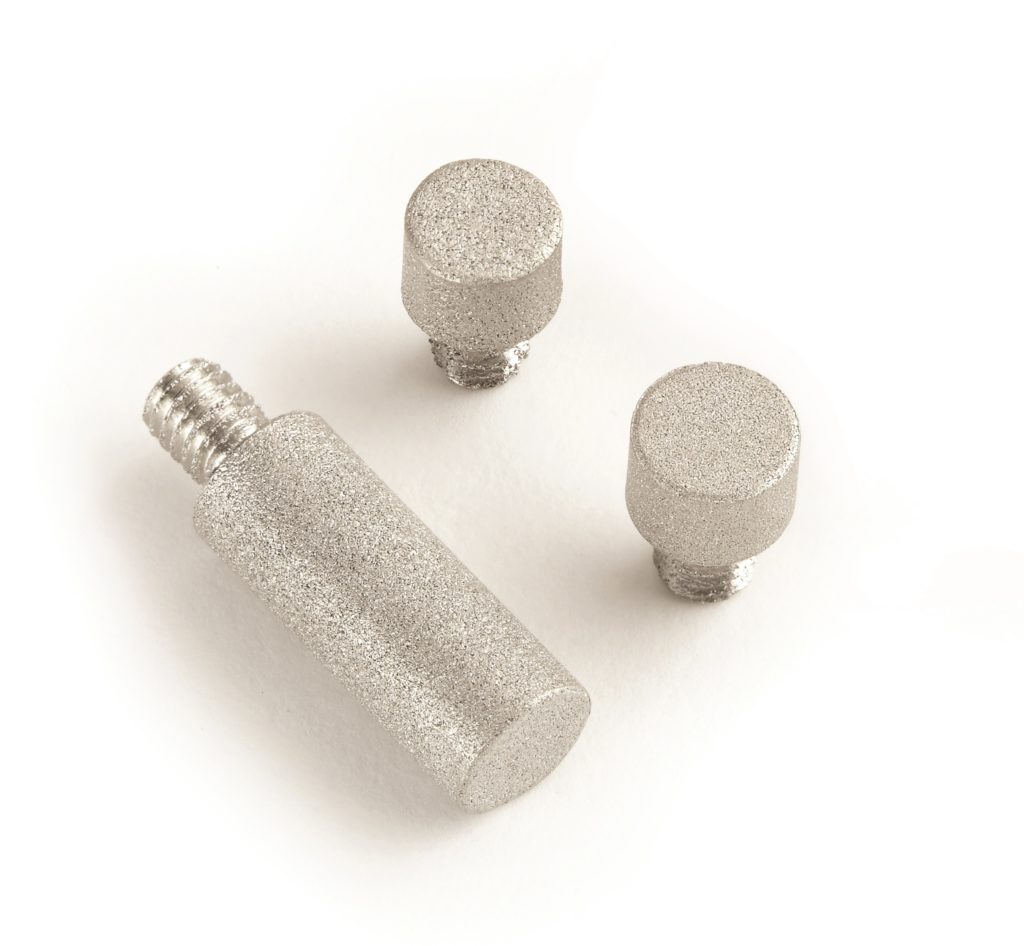 Literature & Data Sheets
Typical Applications
Mammalian Cell Bioprocessing
Biofermentation
Aeration
Bench Top Bioreactors
Mott Corporation offers a wide variety of porous metal sparger tips for laboratory and pilot scale bioreactors and fermentors.
Mott media is designed into dozens of applications in the biotechnology and pharmaceutical industries.
Provides an overview of markets served, applications, products, materials, and engineering capabilities.
Product Specs
| | |
| --- | --- |
| Materials of Construction | |
| Dimensions | See Dimension Diagrams on Datasheet |
| Porous Media Grades | 2 μm, 5 μm, 10 μm, and 15 μm |
| Connections | M5 thread with O-ring grooves, 10-32 UNF threads, hose barb, NPT threads and butt weld ends available. |
Our Design Capabilities
Application Engineering – Need consultation on your design? Our team of application engineers are ready to help you determine the right part for your design. With decades of experience of working with the world's largest technical and performance brands, we're eager to solve complex problems with you.
Customer Innovation Center – We enjoy working with customers on complex projects. In fact, we've dedicated an entire facility to it. Want to join us for various lab testing and engineering consultation sessions? Visit our Customer Innovation Center in Connecticut to develop a solution for your unique application.
Rapid Prototyping Cell – Trying to determine the feasibility of your design as fast as possible? Use our rapid prototyping cell to turn around prototypes in as little as 2 weeks. Our engineers will work with equipment similar to our manufacturing facility to provide you with a manufacturable, economical design.
Additive Manufacturing – If you're looking for the most uniform porosity or a non-traditional design, look no further than working with our porous 3D printing team. We can create controlled porosity designs with various density gradients in non-traditional shapes to satisfy the most unique design request. Our technology allows us to print parts with both solid and porous in a single print cycle.
Relevant Services
Lab Testing – If you need data packages or feasibility testing for your part prior to installation, we're happy to work with you. We'll use our lab center to perform various characterization and performance tests to ensure your parts are meeting strict specifications.
Computational Fluid Dynamics – If you would like to model your process fluids interaction with your Mott requested part, ask your Mott representative how we can model it using CFD software.
Engineering Memberships – If you're constantly working on complex designs that require the highest standards of engineering support, ask about our membership rates, which will allow you discounted rates to various lab testing, prototyping, and engineering resources.
Product Overview

Literature & Data Sheets

Product Specs

Videos & Articles

Design Capabilities

Relevant Services