Ultra-Low Flow Technology for Drug Delivery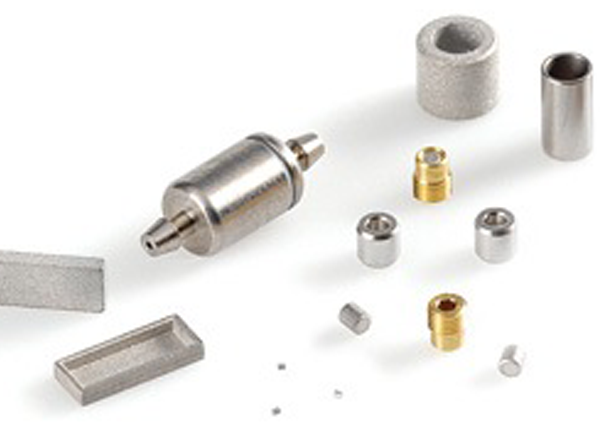 FARMINGTON, CT (September 2015) – Mott Corporation has developed a technology that controls the flow rate of a liquid or drug in devices over extended periods of time. This technology can be configured for passive or diffusional flow and can also manage flow rates in powered devices.
When used for diffusional flow, Mott's porous metal components can be configured to ensure the delivery of a drug on a sustained basis over months. Available in titanium or stainless steel, Mott's technology is well suited for use in both implanted devices or in applications requiring the slow consistent diffusion of a liquid, drug, or biologic over an extended period of time.
To meter the flow in a powered device (pumps, patch pumps and powered delivery devices), Mott's porous metal membrane technology can be calibrated to manage flows as low as 1-2 nanoliters per minute. Based on the same technical foundation that enables precise flow control for fluids on-board satellites, once Mott's porous metal static flow control elements are calibrated, they never vary given the fluids are clean and the inlet and outlet characteristics are consistent with design parameters.
Chemically inert, non-reactive, constructed entirely of bio-compatible materials, and structurally sound, Mott's ultra-low flow precision membrane technology can be used with many large and small molecules. It can be tailored to meet specific conditions, chemistries, and formulations.
Rigid and robust, porous metal affords designers novel and unique properties that are often the solution for challenging medical and life sciences applications.
Mott has a specialized team of engineers dedicated to providing engineering, design, and laboratory services to help pave the way for tomorrow's drug delivery technologies.
Established in 1959, Mott Corporation has long been dedicated to applying sintered porous metal technology to gas and liquid filtration and flow product concepts. Our products are used by customers in industries such as medical device, medical instrumentation, pharmaceutical, biotechnology, semiconductor, analytical instrumentation, aerospace, and chromatography just to name a few. To request a additional information, call 1-860-747-6333 or E-mail: [email protected]. For more information about Mott, visit our website at www.mottcorp.com. Mott Corporation, 84 Spring Lane, Farmington, CT 06032-3159.
# # #
Media Contact:
Patty Dillon
Marketing Manager
(860) 747-6333
[email protected]