The 6 Trends to Look Out for in Chromatography, Part 2: Real-Time Sampling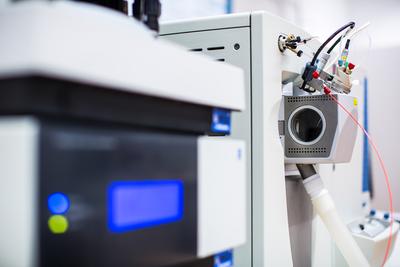 How do manufacturers of biologicals ensure the quality of their product and maintain batch consistency? And how do they do so while constantly striving to improve efficiencies and yields? One way is through real-time sampling.
Bioprocessing, by nature, relies on the processing of live materials – materials that, to be effective, must receive proper levels of nutrients and exposure to precise levels and concentrations of gases. As such, analytical techniques that rely on sampling batches after they have been fully manufactured fail to provide insights into process irregularities until long after recourse is feasible.
Real-time sampling in bioprocessing provides indications as to where problems with yield, quality or consistency are occurring, and enable manufacturers to manipulate critical process parameters on the spot, to circumvent issues.
When time is of the essence, real-time sampling safeguards biotherapeutics.
Real-time sampling, in addition to being a breakthrough in everyday biomanufacturing, has also taken hold in biotherapeutics – medical treatments that are uniquely engineered to match the needs of the patient.
For decades, scientists have explored the possibility that cancer's greatest strength—its ability to proliferate mutated cells uncontrollably —might also be one of its greatest vulnerabilities. Cancer immunotherapy is now one of medicine's most promising fields. It requires scientists to characterize individual cancer tumors and identify their most attackable mutations. Scientists can then design a personalized treatment formulated on the characteristics of the tumor DNA. The therapy encourages the patient's immune system to target the vulnerable mutations, all while minimizing harmful side effects and improving survival outcomes.
Because, in such treatments, time is of the essence and cost is extremely high, real-time sampling is critical. As the market for biotherapeutics grows, the need for real-time sampling from analytical chemistry technology is also certain to increase. Undoubtedly, instrument manufacturers are responding and will continue to uncover innovative ways to improve the process.
High performance liquid chromatography provides reliable real-time analysis.
There are several technologies available to conduct real-time process analyses. HPLC (high performance liquid chromatography) is one such option. Manufacturers employing HPLC must ensure the system used for real-time sampling offers a broad dynamic range that allows for analysis of both high and low concentration components in a single chromatograph run.
In addition, with HPLC, portability is critical to ensure the sampling system can be easily integrated into a production vessel without the need to modify the vessel significantly. The system must also perform fast enough to ensure scientists can act upon the data collected to improve batch production yields and quality.
In recent years, Mott has successfully collaborated with several leading HPLC system manufacturers to guide them in selecting appropriate filter and flow control materials to mitigate corrosion and maximize the life of their HPLC system.
Rely on networking to optimize use of costly analytical instrumentation.
Manufacturers, like those employing real-time analytics on bioreactor head space to determine when batches require feeding and aeration, monitor the health of their product by networking all reactors throughout the operation to a single analytical instrument. This eliminates the need to install expensive and redundant equipment at each sample point and makes it possible to cost effectively elicit multiple feedback sources. Users can successfully accomplish this without the risk of cross contamination; however, they must ensure that refresh rates are sufficient to give workers time to implement corrective actions, if needed.
In recent years, manufacturers have successfully engineered sampling probes with the ability to conduct a variety of analyses from single sample source. With this technology, equipment manufacturers must ensure the device adequately filters particulates, so instrument clogging does not give rise to sample extraction issues.
And, of course, to process large amounts of data efficiently and accurately, especially when it originates from a variety of platforms – for example, both gas and liquid samples, it is also necessary to implement appropriate software systems that can accommodate and facilitate large-scale analyses.
Multiple segments harness the power of real-time analytics.
Though real-time sampling is prominent in the manufacture of biologicals, many other industries take advantage of advancements in technology to monitor critical processes. Consider airline travel and airports. In recent decades, crowded, high-traffic airports and airplanes have been implicated in respiratory disease transmission. Modern-day bioaerosol surveillance techniques are a noninvasive way to monitor and detect such respiratory viruses.
Also, in airports, ports, correctional and postal facilities, personnel often rely on the use of scaled-down, hand-held instruments to detect explosives and narcotics. These instruments reliably detect microscopic traces of dangerous or illegal materials. More recently, airports have begun employing "natural aspiration" which involves high-volume sampling (similar to a large vacuum cleaner) to gather vapor and particle samples simultaneously – either particles floating in the air or inside a checked bag.
In addition, over the last few decades, federal and local authorities have focused on faster, more effective methods to detect accidental or intentional contamination of drinking water distribution systems. These early warning systems rely on water quality sensors, and powerful real-time sampling and data analysis methods – with the goal of improving the water utility's ability to respond.
For decades, Mott has worked with original equipment manufacturers (OEMs) to help engineer customized filtration components for devices in all of these applications – and many others.
What's coming next?
Stay tuned for our upcoming blog on bioinert materials, which will be released in the upcoming weeks. Use the email box in the footer below to get notified of the latest articles as they become available.
If you have feedback on this article, I'd love to hear it. Feel free to send me an email or connect with me on LinkedIn to start the conversation. And as always, if you would like to connect with Mott about developing the latest technology for chromatography, such as new materials, integrated assemblies, and 3D printing, please feel free to use the contact button below to reach our engineering team.
Contact Mott
By: Greg Tedeschi
Title: Product Manager, Life Sciences