Mott Corporation Supports the Fight Against COVID-19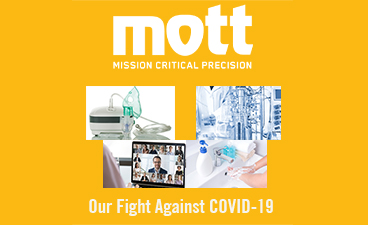 Mott continues to support and protect our team with a safe manufacturing environment as we build critical components in the fight against COVID-19.
We keep fighting to help:
Patients breath.  Our filters and flow restrictors are used in ventilators and respiratory equipment for precise oxygen delivery.
Scientists manufacture vaccines.   Our laboratory components are used to analyze new drug molecules or grow cells in bioreactors for life-saving vaccines.
People to stay connected.  Our high purity gas filters protect the manufacture of semiconductor devices like cell phones, computers and other electronics that allow us to communicate every day with our family, friends, and co-workers.
Keep hands clean.  Our process filtration systems allow the optimal production of oil refining and ingredients used in detergents and soaps.
The Mott team has taken on this challenge and fight.  Through dedication, determination, and a resounding amount of support for one another, our people have continued to persevere in the face of uncertainty.
PEOPLE, PRIDE, PROGRESS