Gas Diffusion Layers for MEAs
Mott gas diffusion layers can be tailored specifically to your application to provide you the best performance in terms of mass transport, conductivity, and materials compatibility. Our sheet can be customized in terms of porosity, thickness, and rigid contact surface depending on your needs. Additionally, Mott has the most extensive material selection in the industry ranging from titanium for standard applications, nickel 200 and 430 SS for SOFCs, and specialty alloys such as niobium for aerospace. For customers working on gas generation applications, Mott supplies PTLs down to .010″ thinness for better reaction times.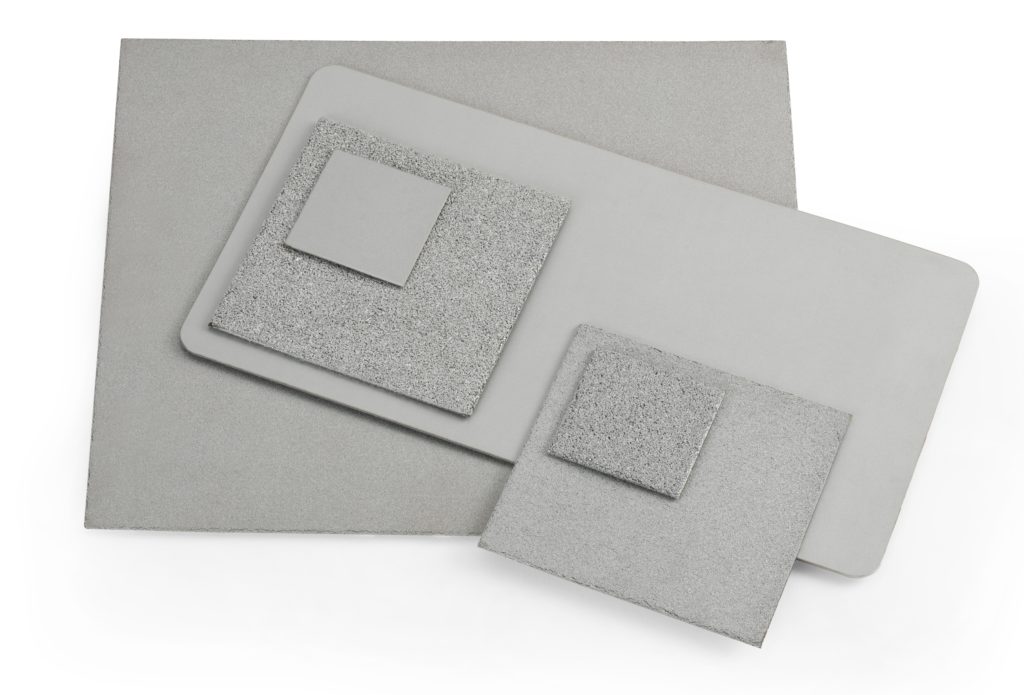 Information Request
?php $country = array("United States","Canada","-----","Afghanistan","Albania","Algeria","American Samoa","Andorra","Angola","Anguilla","Antigua and Barbuda","Argentina","Armenia","Armenia","Aruba","Australia","Austria","Azerbaijan","Azerbaijan","Bahamas","Bahrain","Bangladesh","Barbados","Belarus","Belgium","Belize","Benin","Bermuda","Bhutan","Bolivia","Bonaire","Bosnia and Herzegovina","Botswana","Bouvet Island (Bouvetoya)","Brazil","British Indian Ocean Territory (Chagos Archipelago)","British Virgin Islands","Brunei Darussalam","Bulgaria","Burkina Faso","Burundi","Cambodia","Cameroon","Cape Verde","Cayman Islands","Central African Republic","Chad","Chile","China","Christmas Island","Cocos (Keeling) Islands","Colombia","Comoros","Congo","Congo","Cook Islands","Costa Rica","Cote d'Ivoire","Croatia","Cuba","Curaçao","Cyprus","Cyprus","Czech Republic","Denmark","Djibouti","Dominica","Dominican Republic","Ecuador","Egypt","El Salvador","Equatorial Guinea","Eritrea","Estonia","Ethiopia","Falkland Islands (Malvinas)","Faroe Islands","Fiji","Finland","France","French Guiana","French Polynesia","French Southern Territories","Gabon","Gambia","Georgia","Germany","Ghana","Gibraltar","Greece","Greenland","Grenada","Guadeloupe","Guam","Guatemala","Guernsey","Guinea","Guinea-Bissau","Guyana","Haiti","Heard Island and McDonald Islands","Holy See (Vatican City State)","Honduras","Hong Kong","Hungary","Iceland","India","Indonesia","Iran","Iraq","Ireland","Isle of Man","Israel","Italy","Jamaica","Japan","Jersey","Jordan","Kazakhstan","Kazakhstan","Kenya","Kiribati","Korea","Korea","Kuwait","Kyrgyz Republic","Lao People's Democratic Republic","Latvia","Lebanon","Lesotho","Liberia","Libyan Arab Jamahiriya","Liechtenstein","Lithuania","Luxembourg","Macao","Macedonia","Madagascar","Malawi","Malaysia","Maldives","Mali","Malta","Marshall Islands","Martinique","Mauritania","Mauritius","Mayotte","Mexico","Micronesia","Moldova","Monaco","Mongolia","Montenegro","Montserrat","Morocco","Mozambique","Myanmar","Namibia","Nauru","Nepal","Netherlands","Netherlands Antilles","New Caledonia","New Zealand","Nicaragua","Niger","Nigeria","Niue","Norfolk Island","Northern Mariana Islands","Norway","Oman","Pakistan","Palau","Palestinian Territory","Panama","Papua New Guinea","Paraguay","Peru","Philippines","Pitcairn Islands","Poland","Portugal","Puerto Rico","Qatar","Reunion","Romania","Russian Federation","Rwanda","Saint Barthelemy","Saint Helena","Saint Kitts and Nevis","Saint Lucia","Saint Martin","Saint Pierre and Miquelon","Saint Vincent and the Grenadines","Samoa","San Marino","Sao Tome and Principe","Saudi Arabia","Senegal","Serbia","Seychelles","Sierra Leone","Singapore","Sint Maarten (Netherlands)","Slovakia (Slovak Republic)","Slovenia","Solomon Islands","Somalia","South Africa","South Georgia & S. Sandwich Islands","Spain","Sri Lanka","Sudan","Suriname","Svalbard & Jan Mayen Islands","Swaziland","Sweden","Switzerland","Syrian Arab Republic","Taiwan","Tajikistan","Tanzania","Thailand","Timor-Leste","Togo","Tokelau","Tonga","Trinidad and Tobago","Tunisia","Turkey","Turkey","Turkmenistan","Turks and Caicos Islands","Tuvalu","U.S. Virgin Islands","U.S. Minor Outlying Islands","Uganda","Ukraine","United Arab Emirates","United Kingdom","Uruguay","Uzbekistan","Vanuatu","Venezuela","Vietnam","Wallis and Futuna","Western Sahara","Yemen","Zambia","Zimbabwe"); $state = array("Alabama","Alaska","Arizona","Arkansas","California","Colorado","Connecticut","Delaware","Florida","Georgia","Hawaii","Idaho","Illinois","Indiana","Iowa","Kansas","Kentucky","Louisiana","Maine","Maryland","Massachusetts","Michigan","Minnesota","Mississippi","Missouri","Montana","Nebraska","Nevada","New Hampshire","New Jersey","New Mexico","New York","North Carolina","North Dakota","Ohio","Oklahoma","Oregon","Pennsylvania","Rhode Island","South Carolina","South Dakota","Tennessee","Texas","Utah","Vermont","Virginia","Washington","West Virginia","Wisconsin","Wyoming","--","District of Columbia","Puerto Rico","Guam","American Samoa","U.S. Virgin Islands","Northern Mariana Islands"); ?>
Literature & Data Sheets
Typical Applications
Hydrogen generation and storage
Gas generation in spacecraft
Overview of various customization options for Mott GDLs
Mott Porous Transport Layers achieve high power densities in gas generation applications due to a proprietary ultra-thin design resulting in better mass transport and a smaller footprint.
Learn about Mott capabilities for fuel cell and battery membranes.
Product Specs
:ength

Common Lengths – 10″, 12″, 24″, 40″

Sheet can be laser cut or sheered into smaller pieces if needed. If you need a custom length, please consult factory.

Width

Common Widths – Less than 10"

Sheet can be laser cut or sheered into smaller pieces if needed. If you need a custom width, please consult factory.

Thickness

Common Thicknesses – .010-.125" (dependent on media grade)

Custom lengths available, consult factory

Media Grades

Common Media Grades – .2, .5, 2, 5, 10, 20, 40, 100

Custom media grades available upon request, consult factory

Materials

Common alloys – 316LSS, Titanium, Nickel 200, Hastelloy C-276, Inconel 600

Custom alloys available upon request, consult factory

Temperatures

Alloys with temperature resistance up to 1700 degrees Fahrenheit are available.

Custom alloys available to accommodate unique operating temperatures, consult factory
Our Design Capabilities
Application Engineering – Need consultation on your design? Our team of application engineers are ready to help you determine the right part for your design. With decades of experience working with the world's largest technical and performance brands, we're eager to solve complex problems with you as well.
Customer Innovation Center – We enjoy working with customers on complex projects. In fact, we've dedicated an entire facility to it. Want to join us for various lab testing and engineering consultation sessions? Visit our Customer Innovation Center in Connecticut to develop a solution for your unique application.
Rapid Prototyping Cell – Trying to determine the feasibility of your design as fast as possible? Use our rapid prototyping cell to turn around prototypes in as little as 2 weeks. Our engineers will work with equipment similar to our manufacturing facility to provide with you with manufacturable, economical design.
Additive Manufacturing – If you're looking for the most uniform porosity or a non-traditional design, look no further than working with out porous 3D printing team. We can create controlled porosity designs with various density gradients in non-traditional shapes to satisfy the most unique design request. Our technology allows us to print parts with both solids and porous in a single print cycle
Relevant Services
Lab Testing – If you need data packages or feasibility testing for your part prior to installation, we're happy to work with you. We'll use our lab center to perform various characterization and performance tests to ensure your parts are meeting strict specifications prior to you receiving them.
Computational Fluid Dynamics – If you would like to model your process fluids interaction with your Mott requested part, ask your Mott representative how we can model it using CFD software.
Engineering Memberships – If you're constantly working on complex designs that require the highest standards of engineering support, ask about our membership rates to our lab, which will allow you discounted rates to various lab testing, prototyping, and engineering resources.
Product Overview

Literature & Data Sheets

Product Specs

Videos & Articles

Design Capabilities

Relevant Services