Mott Celebrates Grand Opening of Rapid Prototype Manufacturing Cell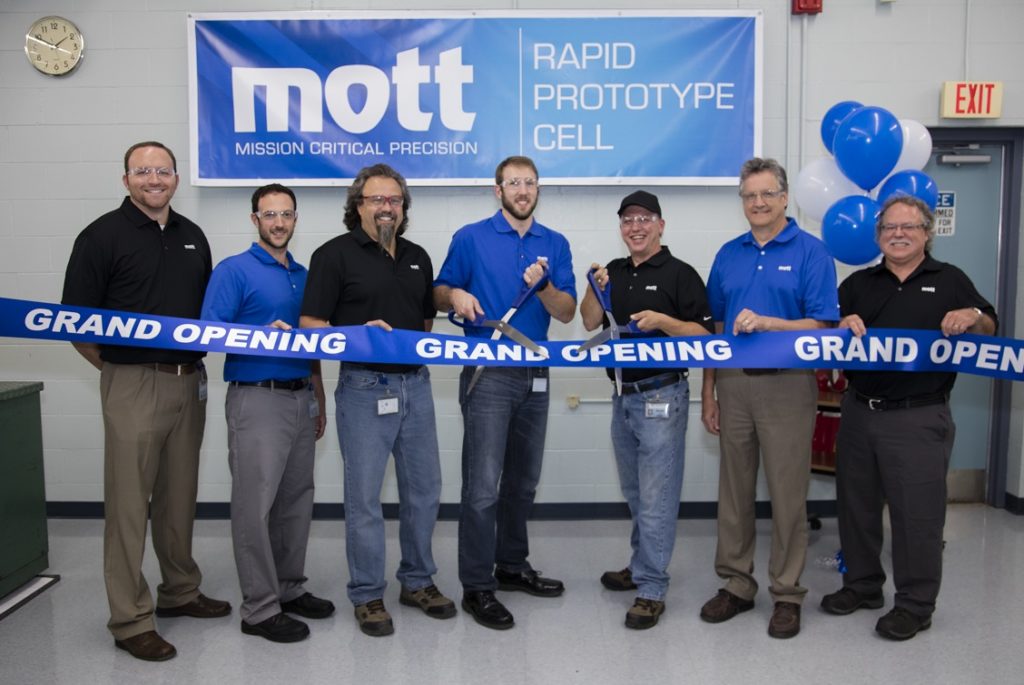 Mott Corporation, a high precision filtration company trusted by the world's best technical and performance brands, opened its state-of-the-art Rapid Prototype Manufacturing Cell last week.  This new manufacturing cell enables 3X improvement in the speed of delivering highly complex prototypes of next generation technologies for many Fortune 500 companies.
"Developing new products and rapidly iterating designs is a key competitive differentiator for our customers.  Mott can deliver new prototypes as fast as 5 days, leading the market in development speed and driving the company to expand to meet industry demand," said Sean Kane, Director, Product Management.
Mott's product development teams will use the Rapid Prototype Cell to create and test new products for Healthcare, Analytical Instrumentation, Semiconductor, Energy, and Aerospace and Defense markets.  To accommodate a strong and growing product development pipeline, Mott needed a dedicated facility and resources.
"Utilizing this Rapid Prototype Cell with 3D printing capabilities, Mott already developed next generation technology for chromatography labs.  This patent-pending technology will be used in labs across the globe to improve accuracy of test results and analysis in critical fields such as cancer research and water pollution," said Mr. Kane.
About Mott
Founded in 1959, Mott's strategic vision is to deliver technological breakthroughs where none currently exists.   Mott's highly customized precision filtration and fluid control platforms deliver 2X performance advantage for a range of mission critical applications, from missions to Mars to implantable medical devices.  Headquartered in Farmington, CT, Mott is a 100% Employee Owned Company with offices worldwide.    For more information, visit www.mottcorp.com
In photo – left to right:  Sean Kane (Director, Product Management), Vince Palumbo (Metallurgist), Bill Kulis (Facilities Manager), Mike Chrysosferidis (Project Engineer), Scott Lagocki (MCLS Technical Lead), Jim Steele (R&D Scientist), Al Romano (Director of Advancing Technologies)