5 Steps to Designing a Sparger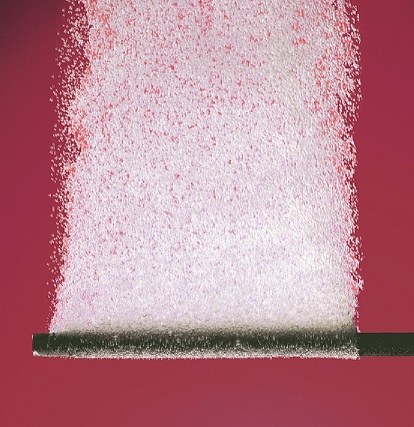 What do your favorite beer and the next advancement in cancer cell research have in common? Both rely on Mott spargers to give them life. The process of injecting gas into a liquid may seem difficult at first, but with a bit of insight and expertise, your next award-winning ale or breakthrough cell cultivation may be easier than you think.
Let's start at the beginning. You have a liquid, be it in a pipe or tank, for which you need to remove oxygen, balance pH, or perform some other task. To accomplish this, you need to introduce a gas; therefore, you need a sparger. Explained in simple terms, spargers, also known as bubblers, carbonators and aerators, inject gases into liquids. When a pressurized gas is forced through the network of pores in a porous metal sparger, bubbles of very small diameter (0.5 to 10 micrometers) are produced to enable a high efficiency transfer of gas into liquid. Think of a fish tank – in which oxygen is dispersed into water. It's the same process.
The efficiency of sparging is influenced by many factors, such as bubble size, contact time between the gas and liquid, temperature of the liquid, gas pressure, and the flow rate of the gas in relation to the flow rate of the liquid.
It's understood that, as an engineer, you're striving to optimize every aspect of your design. So, if you take the time to clearly discuss your goals and the details around your application with your technology partner, you'll find the design process to be both efficient and effective. You may discover that a standard sparger is sufficient for your needs, but if your application requires a custom designed sparger, simply follow these five steps.
Step #1:  Outline your project's goals and the details of your application.
So, what are you ultimately trying to accomplish? Let's discuss the details of your application:
Are you oxygenating, agitating, carbonating or heating the liquid, or perhaps, trying to balance pH?
Is your liquid flowing through a line or contained in a tank?
What liquid are you working with?
What gas are you trying to disperse into it?
How quickly do you require the gas to be incorporated into the liquid?
What temperature is the liquid?
What are the flow rates and pressures of both the gas and liquid?
If your liquid resides in a tank, what is the head pressure?
If your liquid is inline, what is the pipe diameter? We'll account for the space occupied by the sparger to ensure the liquid flows through the pipe efficiently.
Step #2:  Determine the ACFM (actual cubic feet per minute) of gas required to be dispersed into the liquid.
No need to panic here. You simply provide us the standard CFM of gas required and, based on the temperature and pressure of the gas you're using, we'll calculate the ACFM of your process.  If you don't know how much gas your process requires, we can assist with that also.
Step #3:  Optimize the gas exit velocity.
We'll work with you to calculate the ideal gas exit velocity to prevent coalescing and to conserve valuable gas. Bubbles generated by the sparger serve to increase the contact area in the liquid – so the smaller the bubbles, the faster the gas is absorbed into the liquid. But when bubbles coalesce, and smaller bubbles collide to form larger bubbles, surface area is lost. More gas is then required to achieve the desired result. The most efficient spargers protect against coalescence and minimize gas usage.
Step #4:  Calculate the sparging surface area required.
Again, leave this to us. We'll consider your needs and the many unique variables of your application to determine precisely how much sparging surface area you require. To better understand surface area, consider a standard sheet of paper. You can bend and roll it into many shapes or even cut it into several pieces, but the total surface area of the paper will remain constant.
This leads us to the final step.
Step #5: Determine the makeup and geometry of the sparger or spargers.
In this step, the information you've provided and the calculations we've made all come together to ensure we maximize the sparger's gas-to-liquid transfer efficiency. We'll start by determining the optimal material to use in manufacturing your sparger. We'll also calculate the ideal pore size (what we refer to as media grade) of the sparger, the unit's diameter and length, as well as the number of sparging elements needed.
And we don't stop there. We'll also engineer the best fittings to seamlessly connect your sparger to your process.
Rely on our expertise during the design phase.
Manufacturers in nearly every industry have come to appreciate the ultra-fine gas bubbles produced by Mott's inline and in-tank spargers – bubbles which are more numerous and far smaller than those produced by needle valves or traditional drilled pipe. In fact, our sintered spargers have been shown to increase the transfer of gases into liquids by as much as 400% over traditional spargers.
Mott's engineers are always here for you and we'd welcome the opportunity to collaborate with you to design the ideal sparger for your application. We've done it many times before. In fact, over the past six decades, we've designed thousands of spargers. And our spargers are made entirely of metal. No polymers. No organics. No epoxies. They withstand extreme temperatures and pressures as well as some of the most corrosive environments.
Are you looking to design an extremely efficient process within a reasonable budget? We're here to help you get the most out of your design – but don't wait. It's never too early for us to discuss your vision and goals and help you maximize your system's potential.  Contact us today!