Mott Presents Breakthrough Advancements in Additive Manufacturing at AMUG 2022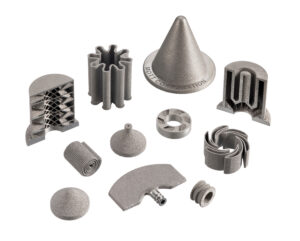 Farmington, CT – March 2022
Mott Corporation will present ground-breaking 3D printing porous technology advancements at the Additive Manufacturing Users Group (AMUG) Conference in Chicago, IL, being held April 3-7 at the Hilton Chicago.  Dr. Vincent Palumbo, one of Mott's leading metallurgists and 3D printing experts, will speak to a global audience of additive manufacturing users about Mott's latest advances and capabilities relating to gradient porosities, unique configurations and solid & porous integration.  "The Benefits of Porosity in AM" will be presented Thursday, April 7th at 1:30-2:30 pm at the Hilton Chicago, Joliet Room, 3rd Floor.
Mott's 3D print technology has been used to create custom filtration and flow control solutions for customers in industries such as biotechnology, analytical chemistry, and aerospace & defense just to name a few.  This breakthrough technology allows the ability to quickly prototype complex designs that meet customer specifications, while providing more uniform pore size distribution and flow permeability in a light-weight footprint.
"I am excited to have been invited to give this talk! It is a great opportunity to share the unique capabilities that the Mott AM team has developed over the past several years. The industry recognition, coupled with continued increases in customer opportunities and deeper development work, highlights how Mott's AM program has become an innovative entity in the filtration and additive manufacturing fields", said Dr. Palumbo.
Mott will be supporting Renishaw Additive Manufacturing at the show who will be exhibiting in Booth P3.  For more information about the event and registration:  https://lnkd.in/gQbZfMR
For more information on Mott's 3D Printing capabilities, contact one of our engineers at [email protected] or visit https://mottcorp.com/controlled-porosity-3d-printing/